The developers of Battle Royale Apex Legends have taken to the official site to reveal the big batch of changes brought by the upcoming update, from new ways to play to the long-awaited launch of Apex Legends on Nintendo Switch. The Chaos Theory Collection Event kicks off March 9th, 2021 and runs until March 23rd, 2021.
Apex Legends will be launching on Nintendo Switch on March 9th with cross-platform play support, the latest seasonal content and full feature parity with the other versions of the game
Caustic Treatment Takeover – when life gives you lemons, you can count on Caustic to turn it into toxic lemonade. Breathe it in at the all-new Caustic Treatment; a new dominant mousetrap with lots of high quality loot that beckons all Legends who seek the glorious cheese.
Ring Fury Escalation Takeover – Ring Fury is a new Apex playlist takeover that follows regular BR rules, but each round, one or more Ring Flares will appear on the map within the current ring. Ring Flares are slowly expanding pockets of the Ring within the Arena!
Heat Shields – During the Ring Fury Escalation Takeover, all players will start with a Heat Shield in their inventory on drop. Throw down your Heat Shield to avoid damage from Ring Flares (or from the ring itself!) and remember that you can always find more.
The Survival Slot –  You'll notice that the Heat Shield doesn't take up any of your normal inventory slots—instead, it resides in the brand new "Survival Slot". The Survival Slot aims to eliminate the choice between normal loot and situational utilities like a Mobile Respawn Beacon or a Heat Shield. Now, there's no reason not to carry one of these around. Coordinate with your team, and the possibility for more survivability tactics soars!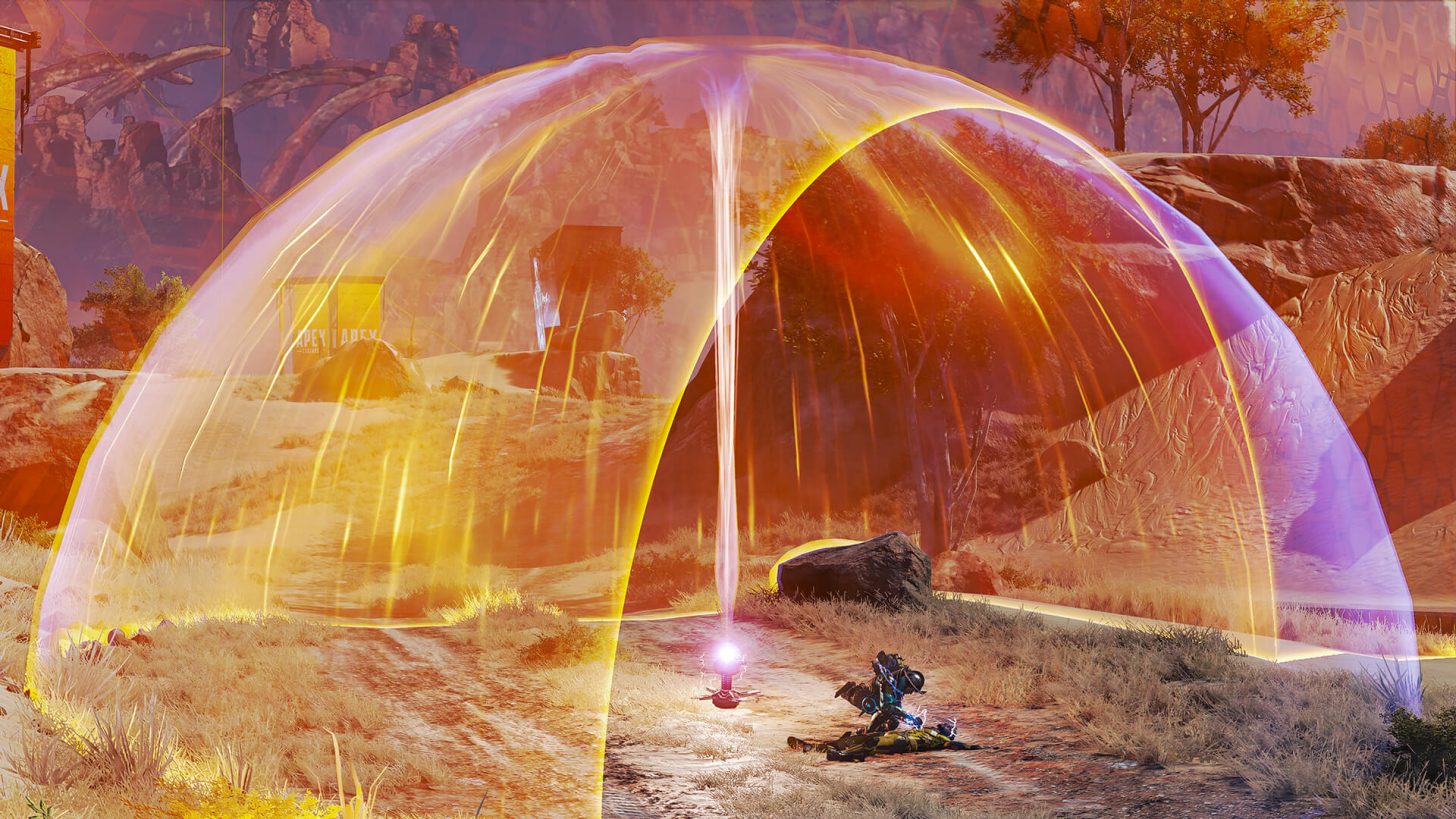 No-Fill Matchmaking –  a new way to play the game as a solo Legend. If you solo queue into Trios, with "Fill Matchmaking" unchecked, you'll go in alone. You'll be on a team of one, against teams of three.
The Chaos Theory Collection Event brings a rewards track with all-new earnable cosmetics, this time including legendary Kraber and EVA-8 weapon skins among the goodies.
You can earn 1,000 points per day and challenges refresh daily. There are also stretch challenges that reward four unique badges if you complete them during the event. All of these challenges also stack with your Battle Pass, so you can complete multiple at once.
And of course, Chaos Theory also introduces a brand new set of 24 themed, event-limited cosmetics.
All 24 items will be available through direct purchase (for Apex Coins or Crafting Metals) and in Event Apex Packs for the entire duration of the event. If you collect all 24 event items, you'll unlock the Bangalore Heirloom set.