Respawn Entertainment decided to start the new year in Apex Legends with a bang. To that effect, the company shared the special trailer video made for the latest event kicking off in-game: Grand Soirée Arcade Event. Starting on January 14th, Grand Soirée features seven splendid limited-time modes and plentiful prizes. Experience returning classics and newfangled additions, with a new mode every two days. Earn fabulous rewards with our new Challenge Scorecard and dress to impress with Art Deco inspired cosmetics from the shop.
You are cordially invited to two weeks of refined mayhem. We are pleased to offer fresh game modes every two days, from golden oldies to exotic new additions. Partake in a rollicking event prize track, earn exquisite rewards, and peruse the event shop for an array of Art Deco inspired cosmetics and outfits. Dress code: Formal Skins.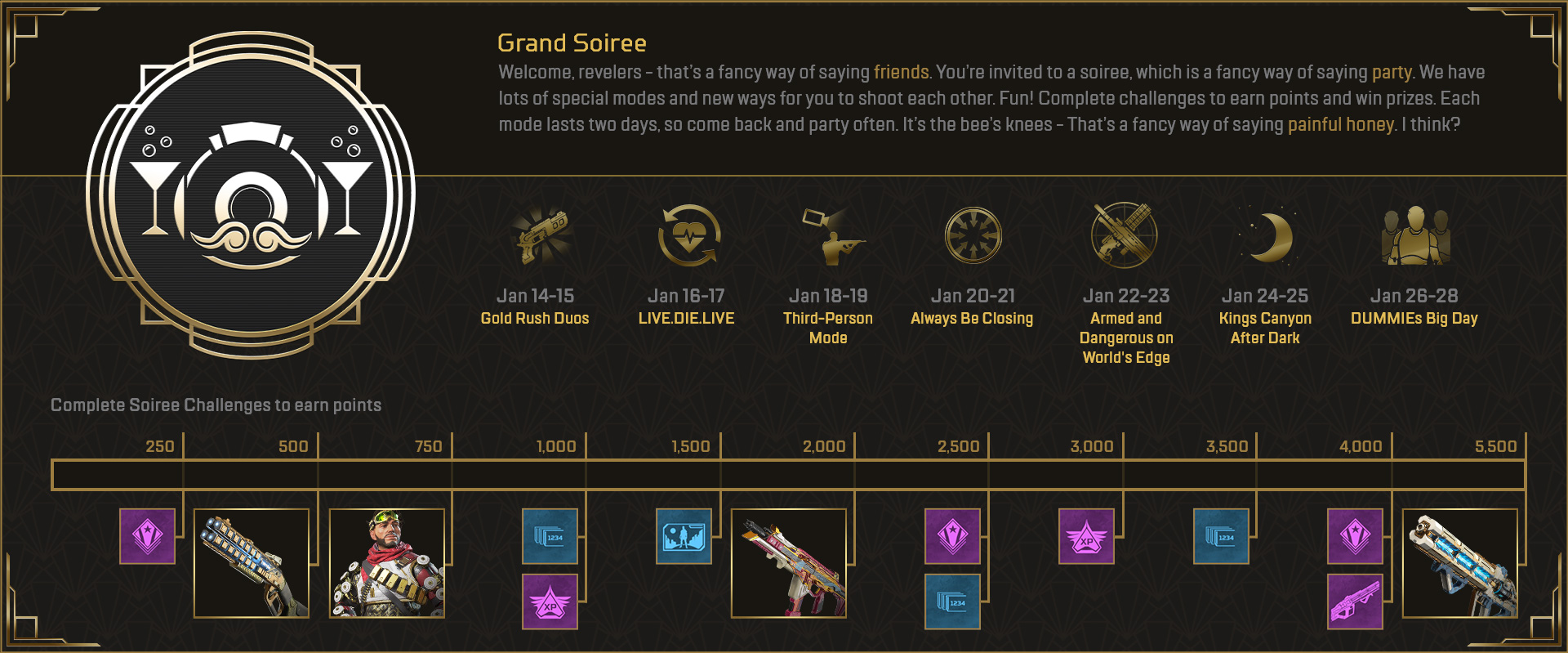 Seven Rotating Limited-Time Modes – The Grand Soirée Arcade Event features seven limited-time modes, with a new mode rotating every two days.
Progress up the Event Prize Track and Earn Increasingly Prestigious Rewards – Each limited-time mode will have three new challenges worth a total of 1000 points.
Bonus Scoring Weekend – Be sure to play during the Bonus Scoring Weekend, where you'll be able to grab an additional set of event-specific challenges worth a total of 500 points. The bonus challenges will be available starting January 17 at 10:00 a.m. PT and runs until January 20 at 10:00 a.m. PT.
Direct Purchase Event Shop – As with previous Themed Events, the Grand Soirée will have a direct purchase shop that will include a mix of legendary skins, as well as other Art Deco inspired cosmetics at a $5 price point. The skins will be rotating throughout the event, so be sure to check back often for new items.