Ninjas – the mythical Japanese mercenary warriors that used stealth and martial arts to vanquish their enemies – have been a staple of pop culture ever since they exploded into the scene in the late 80s and early 90s. Previously often confused with Samurai, Ninjas soon became a distinct and beloved pop culture icon of their own.
Featured in countless movie and TV shows, the legendary assassins soon invaded not just our screens but also our game consoles and computers, as game developers realized there was plenty of demand for games that allowed gamers to play as the badass martial artists in a quest for vengeance, honor, or love.
While the hype may have died down a little in the past few decades, Ninjas still remain hugely popular in all forms of pop culture – particularly gaming. With dozens of Ninja games coming out each year for PC, consoles or mobiles, fans of Ninja warriors have more option than ever to don a katana and ninja stars and head into battle.
The options for mobile gaming are particularly impressive, as not only are many of them are completely free or cost just a few dollars, but there is also just a great variety of different types of games available for just about every type of player. Whether you prefer RPGs, strategy games, platformers, or even slot games, you are sure to find the perfect Ninja game to play on mobile.
With that in mind, let's take a look at our favorite Ninja themed games for Android!
One of the most popular mobile games of all time, the key to Fruit Ninja's success is its simple, yet absolutely gripping gameplay.
Taking advantage of your mobile device's touchscreen, Fruit Ninja allows you to use your finger to quickly slice fruits with your katana, reducing them to pieces with total precision. While at first glance this may not sound too entertaining, when you are actually dicing and slicing away you will understand just how addicting and fun this game can be.
Filled with non-stop action, you must go through screen after screen in which fruits and bombs are thrown throughout the screen, making sure to avoid slicing through the explosives and blowing yourself up. While it is by far the most simple game on this list, Fruit Ninja snatches a mention on this list out of sheer enjoyability. Hell, if for nothing else, you might even want to play it before the movie comes out!
Is there anything more terrifying that a Ninja out to avenge his dead wife? Ninja Revenge allows you to show bad guys there truly is not, as you slash your way through dozens of different enemies on your bloodthirsty quest.
And plenty of blood there is, as you use your katana, multi-combos, power ups and your bear hands to tear apart anyone foolish enough to get in your way. Featuring great graphics, smooth controls, tons of blood, and fantastic death animations, this game is not just entertaining to play, but it also features plenty of humor to make it a truly fun ninja experience.
Speaking of tons of violence and blood, Ninja Arashi also delivers players plenty of ninja carnage and fun while also adding an element of strategy to the gameplay.
A platformer mixed with RPG elements, Ninja Arashi follows the story of the titular Arashi – a former retired legendary ninja that is forced out of retirement when his son is kidnapped by the devil Orochi.
In order to save him, you must fight your way through onslaughts of enemies with his deadly ninja skills, avoiding killer traps, and complete some mind-twisting puzzles and challenges to remain alive. Luckily you are equipped not only with your fantastic skills, but also boost moves and weapons, including katanas, axes – and evens guns.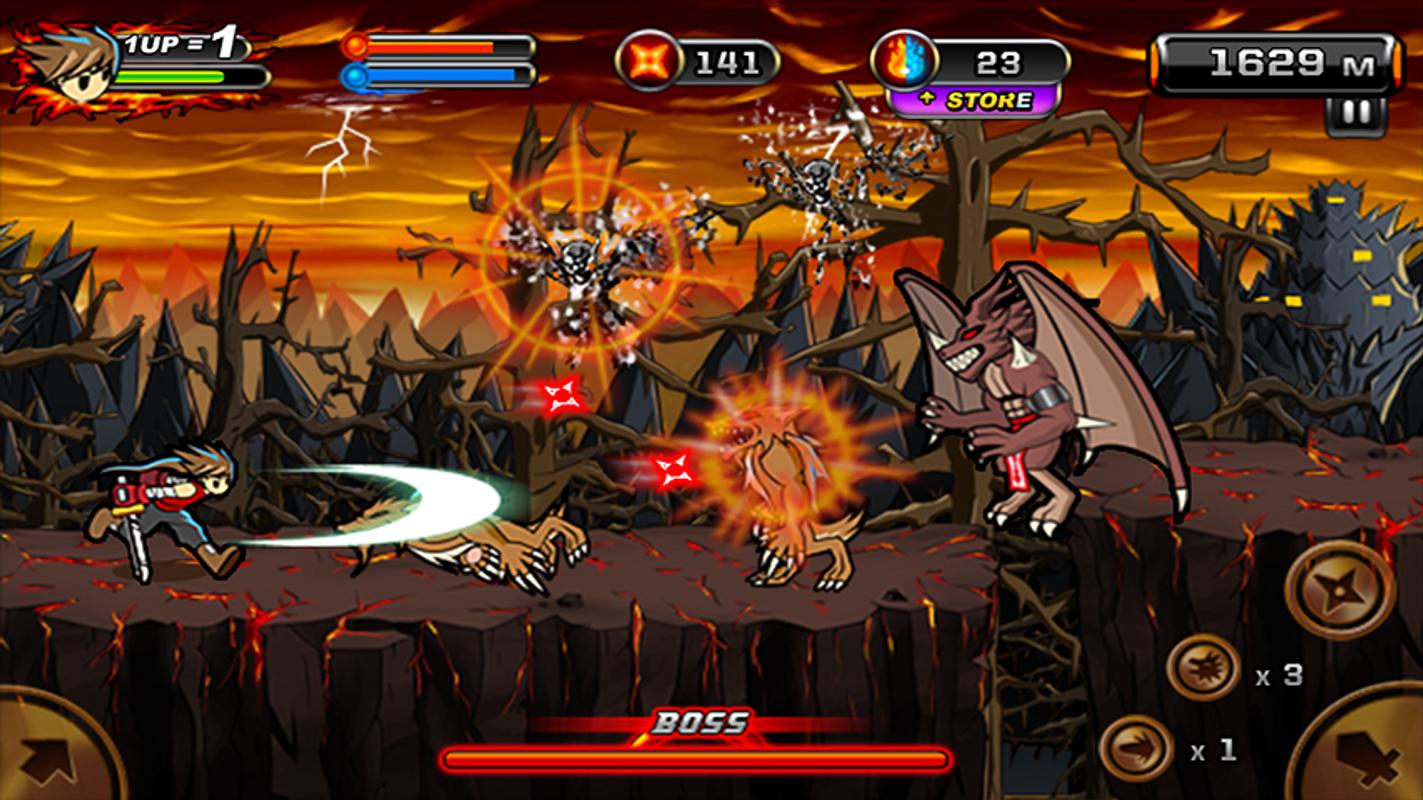 If you are looking for the perfect button masher ninja game, Devil Ninja 2 is probably your best bet. A side scrolling game featuring more cartoony yet stunning graphics, Devil Ninja takes you straight to the land of the devil. Here you must make your way through the nightmarish wasteland battling all sorts of monsters and demons along the way.
To do this you will also need to summon all of your fantastic ninja skills and your epic arsenal, which includes hundreds of different weapons and power ups. Along your way you must make sure to collect as many energy balls as possible, allowing you to become stronger and purchase new weaponry. These will all come in very handy, as you face wave after wave of monsters.
Featuring smooth controls and non-stop action, Devil Ninja 2 can also be played in multiplayer mode, allowing you to play with your friends.
Perhaps the most visually striking game on this list, Nina War Hero features fully rendered realistic 3D graphics that truly immerse you into the world of a ninja. In this game you play as a lone ninja warrior who must clean up the streets from an army of thugs and gangsters that are kidnapping people across the city.
To get to the bottom of who is behind this, you must use your stealth and deadly ninja skills to kill and sidestep your enemies. To do this you can climb building, jump, and even use a boat, though if you prefer to confront your enemies you are also equipped with all sorts of different weapons including katanas and guns. While the action in this game isn't too exhilarating, if you prefer a game that also requires investigating – or simply enjoy the game's fantastically realistic graphics – you are bound to enjoy Ninja War Hero.