Randy Pitchford, Gearbox CEO, has shared his comments on Borderlands 3 Epic Store exclusivity via Twitter after the rumor that resurfaced yesterday.
2K/Take Two has exclusive publishing rights for Borderlands 3 and makes all decisions regarding price-points, territories, distribution and platform partnerships. Please direct all inquiries regarding any of those topics to 2K. We are *just* the talent. 1/3

— Randy Pitchford (@DuvalMagic) April 1, 2019
For what it's worth, 2K's decisions aside, myself and the team at Gearbox have a very keen interest in cross-platform play. We believe multi-platform support is a pre-requisite and Epic's leadership with cross platform support is helpful to our interests there. 3/3

— Randy Pitchford (@DuvalMagic) April 1, 2019
Borderlands was officially announced for PC and consoles last week. Yesterday the official Borderlands Twitter suddenly published a message saying "Mayhem is coming September 13. Pre-order now for the Gold Weapon Skins Pack!". Another tweet showed logos of 2K Games, Gearbox and Epic Games Store. While many have through of the message as the April's fools joke, the tweets were deleted soon after.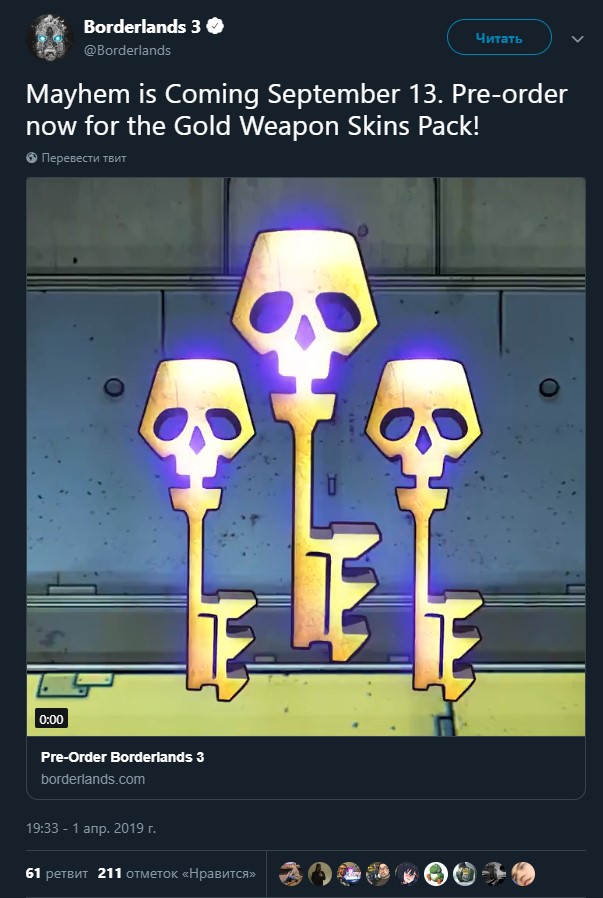 More information about the game is coming as soon as tomorrow.  It is possible we will see the official confirmation or denial of Borderlands 3 Epic Store exclusivity. Stay tuned!