For a week Sega has been teasing the possible PC version of the original Catherine. Lo and behold, it is now available on Steam for $19.99! To celebrate the occasion, Sega has also released the launch trailer you can find above.
Catherine Classic brings to PC the original version of ATLUS' unparalleled classic action puzzler, now enhanced for modern PCs.
Japanese Voice-Over available for the first time in the West
4K resolutions
Unlocked framerate
Customizable keyboard and mouse controls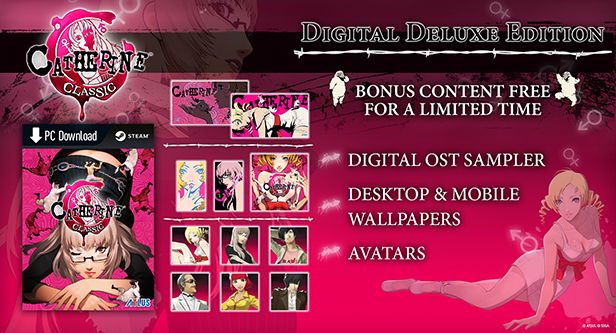 Explore the pleasures and horrors of love as Vincent, a man with a hard choice to make: marry his long-time girlfriend Katherine or move on to the incredible blonde he just woke up next to — named Catherine! But beware! Make the wrong choice, and you could end up dead. Delving into themes of free will and the delicate nature of relationships and the choices we make, this action-adventure-puzzle game is an experience unlike anything else.
Some of the game's features:
A Choice to Make – Vincent's heart is torn between two women. On one side sits Katherine, the girl who intends to wed Vincent someday. On the other, Catherine, who appeared out of nowhere.
Nightmarish Puzzles – Various obstacles impede Vincent's path. Some blocks are traps, waiting to skewer unwary climbers. Others explode, damaging everything around them. The sheep in the nightmare are desperate to survive until morning, too. They'll get in your way, mess up your blocks, or even try to shove you off.
Three Game Modes – Play through Vincent's twisting story of love, lust, and self-determination in Golden Playhouse. Take on the tower's challenges for high scores, single player or local co-op, in Babel. Face other players in local multiplayer to determine who is the better climber in Colosseum.