The hell will open only in a week, but id Software and Bethesda Softworks have already presented the official launch trailer for the upcoming Doom Eternal.
Become the Doom Slayer and drive back the hellish hordes that have invaded the earth in an epic single-player campaign. Conquer demons across dimensions and stop the final destruction of humanity. And if you love unicorns? All the better!
Armed with a shoulder-mounted flamethrower, retractable wrist-mounted blade, upgraded guns and mods, and abilities, you're faster, stronger, and more versatile than ever.
There is only one dominant life form in this universe, and it carries a steel-barreled sword of vengeance. Become the Slayer and hunt Hell's armies to the far reaches of the earth and beyond. The only thing they fear… is YOU.
The game is currently up for pre-order. By purchasing the title in Steam before the official release date, you will get a free digital download of DOOM 64, a cult classic available for the first time ever on modern platforms. Pre-orders of DOOM Eternal also include the Rip and Tear Pack, which comes with
DOOT Revenant Skin
Cultist Base Master Level
A remixed version of the campaign level with new challenges and surprises
Throwback Shotgun Weapon Skin
Bring DOOM's classic shotgun to bear on DOOM Eternal's demon hordes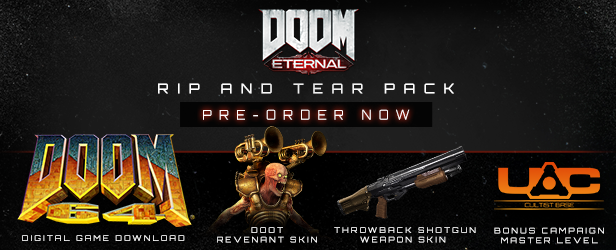 Raze Hell with the DOOM Eternal Deluxe Edition which includes:
Year One Pass

Access to two campaign add-ons to release within first year of DOOM Eternal's launch date.

Demonic Slayer Skin
Classic Weapon Sound Pack
Throwback sound effects for all your DOOM Eternal guns