With the spookiest time of the year coming to Tamriel, the developers of The Elder Scrolls Online have taken to the official site to reveal more information about the upcoming Witches Festival in-game event.
Put monsters to the sword to receive ghastly goodies and double XP when the Festival begins on Thursday, October 22 at 10:00AM EDT, and will run until Tuesday, November 3 at 10:00AM EST. Throughout this terror-filled term, you can receive repulsive rewards in the form of spoopy Plunder Skull containers, a 100% XP boost, Event Tickets, and collectibles.
To take part in this ghoulish gala:
Navigate to the Holiday section of the Crown Store and acquire the free quest.
Complete the quest "The Witchmother's Bargain" to receive the Witchmother's Whistle memento.

If you completed the quest in previous events, you don't need to acquire the Witchmother's Whistle or complete the quest again, and you can use the whistle already found in your Collections menu.

Use the whistle to receive a two-hour 100% XP buff and summon the "Witchmother's Cauldron."
Use the Witchmother's Cauldron to transform your character into one of the undead.

Note that you do not have to use the Witchmother's Cauldron to gain the XP buff, just the whistle. The Cauldron cannot be summoned in Cyrodiil.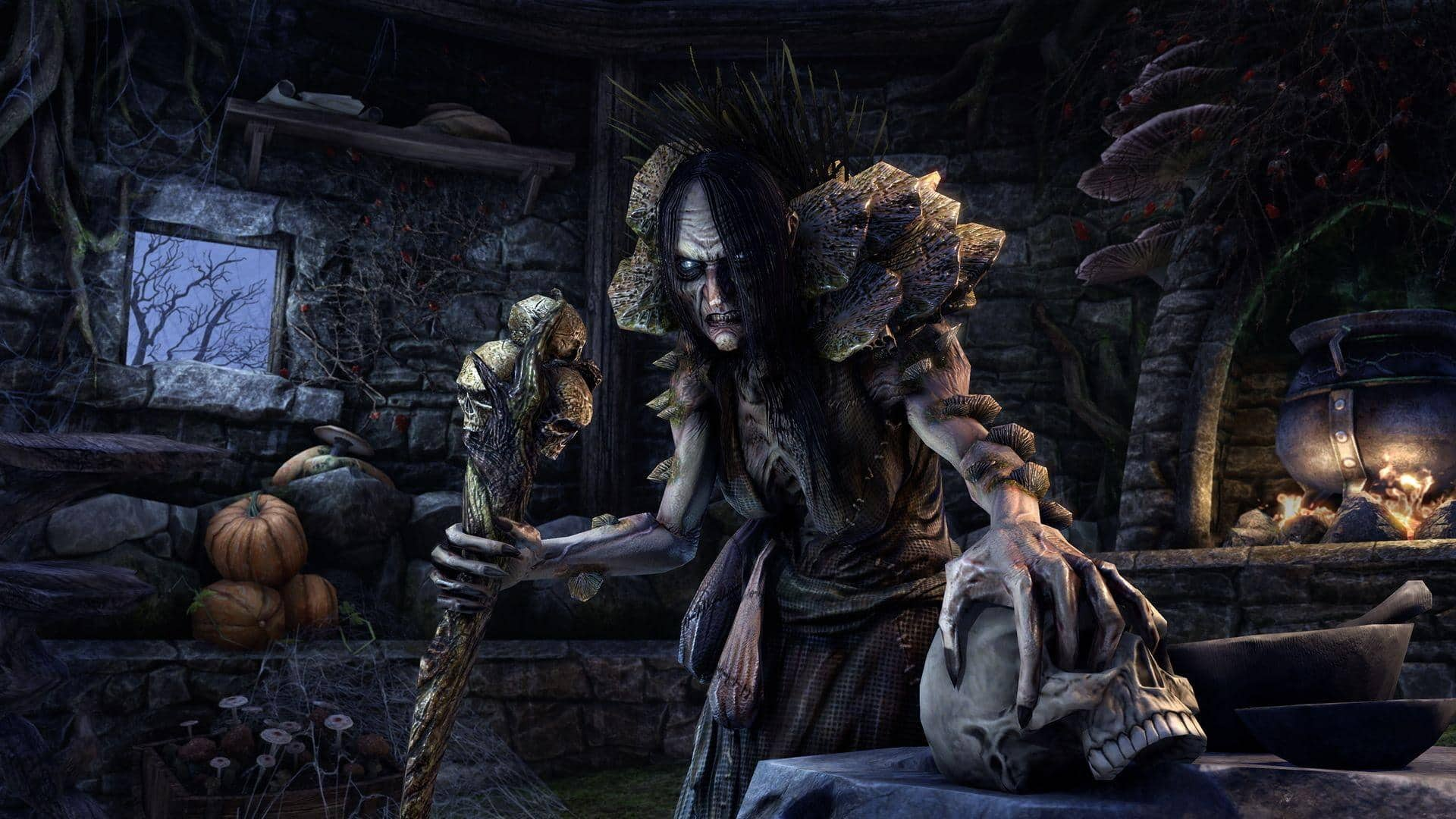 Depending on the type of boss you defeat, you'll receive one of two different Dremora Motif pages:
Final Arena Bosses drop Dremora Motif pages for Bows and Legs
Dark Anchor, Geyser Bosses, Craglorn Focus Points, Harrowstorms, and zone Dragons drop Dremora Motif pages for Daggers and Gloves
Delve Bosses drop Dremora Motif pages for Staves and Belts
Final Dungeon Bosses drop Dremora Motif pages for Helmets and Maces
Public Dungeon, Imperial City Bosses, and Quest Bosses drop Dremora Motif pages for Shields and Boots
Final Trial Bosses drop Dremora Motif pages for Swords and Chests
World Bosses drop Dremora Motif pages for Shoulders and Axes
Whether you're clearing Harrowstorms, exploring the Labyrinthian public dungeon, or hunting down Hordrek's savage werewolf pack, you'll earn these bonus rewards for slaying Tamriel's monsters throughout the event period.
Throughout the event, the Impresario will also stock the following items for Event Tickets:
All four Indrik Feathers
The first two Crimson Indrik Berries (Budding and Bloom)
Group Repair Kits
The Throw Bones memento
Grave Dancer Weapon Style pages
NEW Grab Bags!
What are Grab Bags? These curious containers have a chance to contain a collectible from a previous Witches Festival event. When you open a Grab Bag, it will only ever contain items you don't already own or know, and once you've acquired every possible item within them, they'll no longer be available for purchase. Be sure to open each bag and remove its items as soon as you acquire it (to avoid duplicate items from subsequent bags). For this event, a Grab Bag can contain Hollowjack Motif pages, the Skeletal Marionette memento, Apple-bobbing Cauldron fragments, and the Spectre Mask collectibles.
If you have acquired every collectible but still have Grab Bags to open, they'll contain Group Repair Kits instead.