Have you ever played a really good game for an extended period of time and then found yourself looking at credits while understanding that you're not quite ready to let go just yet? This is the kind of state I have been in after beating Pathfinder: Kingmaker with a few hundred hours spent conquering the Stolen Lands. I am not yet ready to start a new playthrough but neither am I able to move completely away. A way out? Start playing another cRPG, complete with new hero, companions, choices, romances, adventure, a big bad to defeat or join and more!
Below you can find a handy list of beloved cRPGs, from classics to the games currently in development, if you ever face a similar urge. Note: the games are placed in non-ranked order.
The article has been updated to reflect the release status of several games.
Old School Cool
Below you can find beloved legendary games of the past that have ultimately set the standard for the games to follow and shaped the genre into what we see today.
Fallout 1 & 2
Cult classics in their own right, Fallout 1 & 2 invite players into a post-apocalyptic world and challenge them to survive the aftermath of a nuclear war.
The core of the game revolves around your character. Fallout uses a skill-based system to allow you to fine tune your character. As you gain experience (roughly half from combat, the other half from solving adventure seeds and non-combat events), your character will grow as you determine. Combat in Fallout is tactical turn-based. You can take as much time as you need to make decisions. Choose from different types of attacks, with a variety of weapons and attack skills.
Baldur's Gate & Baldur's Gate 2
Since its original release in 1998, Baldur's Gate has set the standard for Dungeons & Dragons computer roleplaying games. Customize your hero, recruit a party of brave allies, and explore the Sword Coast in your search for adventure, profit… and the truth. You can continue your journey in Baldur's Gate 2 or create an entirely new character. Can you resist the evil in your blood and forsake the dark destiny that awaits you? Or will you embrace your monstrous nature and ascend to godhood as the new Lord of Murder?
In 2012, the series was revitalized with Enhanced editions to work better with the current platforms and even on the iOS and Android devices.
Icewind Dale & Icewind Dale 2
Originally released in 2000, Icewind Dale is a Dungeons & Dragons game set in Wizards of The Coast's legendary Forgotten Realms. In 2014 the game has received the Enhanced Edition.
In the northernmost reaches of the Forgotten Realms lies the region of icy tundra known as Icewind Dale. Journey deep into the Spine of the World mountains, a harsh and unforgiving territory settled by only the hardiest folk. Encounter fearsome beasts that have learned the cunning and ferocity needed to survive among the snow-shrouded peaks. Confront an evil that schemes beneath the carven glaciers and mountainsides to wreak destruction upon the face of Faerûn.
Icewind Dale 2 carries on from its predecessor, adding a new story, spells and much more.
Neverwinter Nights & Neverwinter Nights 2
Slink through the shadows as a deadly half-elven rogue, wield fearsome magics as a powerful gnomish sorcerer, vanquish your foes as an armor-clad dwarven paladin… whatever hero you create, incredible adventures await.
Neverwinter Nights 2 is the tale about the deeds of a hero raised by the elven ranger Daeghun. Neverwinter Nights 2: Complete is an epic RPG set in the fantasy world of the Forgotten Realms, one of the most popular campaign settings of Dungeons & Dragons. Use all the wicked spells, feats, and prestige classes from the D&D 3.5 rules. Create your characters any way you wish, choosing from a wide variety of races and subraces, such as Tiefling and Aasimar. As if the pre-made campaigns weren't enough, you can take the reins and use the powerful Obsidian Neverwinter Nights 2 Toolset to make your own adventures and share them with friends!
Planescape: Torment
The original Planescape: Torment was released in 1999 to widespread critical acclaim. It won RPG of the Year from multiple outlets for its unconventional story, characters, and amazing soundtrack. Since then, millions of Planescape: Torment fans have enjoyed exploring the strange and dangerous city of Sigil and surrounding planes through the Nameless One's eyes.
Discover an incredibly rich story and a unique setting unlike anything else in fantasy. Defeat strange and alien creatures, engage in rich dialogue, and explore the dark and dangerous Planescape setting in this 50+ hour RPG classic.
Arcanum: Of Steamworks and Magick Obscura
Imagine a place of wonder, where magick and technology coexist in an uneasy balance, and an adventurer might just as easily wield a flintlock pistol as a flaming sword. A place where great industrial cities house castle keeps and factories, home to Dwarves, Humans, Orcs and Elves alike. A place of Ancient runes and steamworks, of magick and machines, of sorcery and science. Welcome to the land of Arcanum.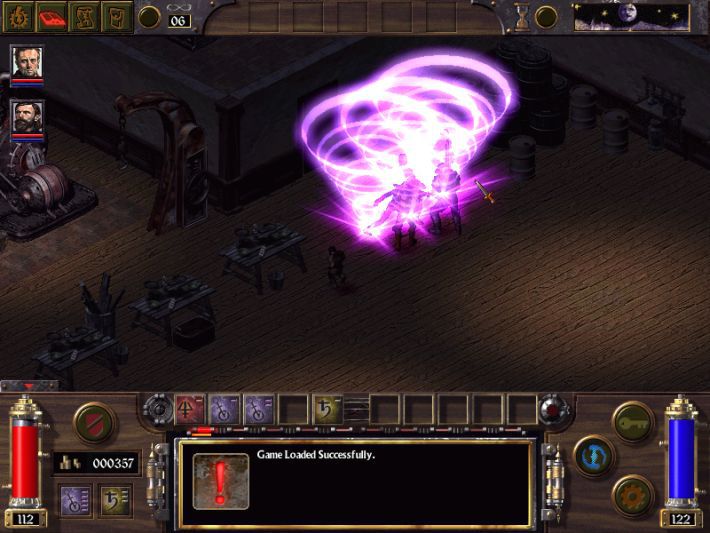 Modern cRPGs
The popularity of the genre did not diminish with time. Despite a certain lull after the release of the legends above, the last few years have been filled with major releases that made many fans happy.
Dragon Age: Origins
Unlike its sequels that have moved closer to the action RPG formula, the first game in the Dragon Age series allows players to experience classic party-oriented cRPG gameplay. You are a Grey Warden, one of the last of a legendary order of guardians. With the return of an ancient foe and the kingdom engulfed in civil war, you have been chosen by fate to unite the shattered lands and slay the archdemon once and for all.
When history tells the story of the Fifth Blight, what will be said about the hero who turned the tide against the darkspawn? Determine your legacy and fight for Thedas as a noble dwarf, an elf far from home, a mage apprentice, or a customized hero of your own design.
Age of Decadence
The Age of Decadence is a turn-based, hardcore role-playing game set in a low magic, post-apocalyptic fantasy world. The game features a detailed skill-based character system, multiple skill-based ways to handle quests, choices & consequences, and extensive dialogue trees.       
The Age of Decadence is not a game about killing monsters or exploring mystical lands, but rather, surviving amid the greed and brutality of your fellow humans and carving out a name for yourself. Good and bad are purely relative. It's a world of scheming and backstabbing in which your words and actions have the potential to forge alliances and sow discord, and your path is never certain.
UnderRail
Underrail is an old school turn-based isometric indie role playing game that focuses on exploration and combat. The game is set in a distant future, when the life on the Earth's surface has long since been made impossible and the remnants of humanity now dwell in the Underrail, a vast system of metro station-states that, it seems, are the last bastions of a fading race.
The player takes control of one of the denizens of such a station-state whose life is about to become all that much more interesting and dangerous, as our protagonist is caught midst the conflicting factions of the Underrail as the violently struggle to survive in the harsh underground environment.
Tyranny
Play an RPG with meaningful, world-altering choices, unique and memorable companions, and a new perspective on morality. Tyranny casts you as the arbiter of law in a world devastated by war and conquered by a despot. Will you work inside the system or try to dismantle it… and will it be for the glory of Kyros, for the good of the world, or for your own ambition?
Tyranny is a classic-styled RPG with a new and original story, shaped and molded by your actions. The very layout of the world will be altered by your decisions as you choose sides, make allies and enemies, and fight for your own vision of law and order in an immersive and reactive story.
Pillars of Eternity & Pillars of Eternity 2: Deadfire
The first Pillars of Eternity lets your Watcher in on one of the darkest secrets of Eora. PoE2: Deadfire takes place several years after the events of the first game, and you have a rogue God on your hands. With your character's soul being woven into the deity, you have no choice but to lead your ship on a dangerous voyage of discovery across the vast unexplored archipelago region of the Deadfire.
Bend the world to your will, as you explore the depths of infinite possibilities, including detailed character customization, total freedom of exploration, and more meaningful choices at every turn.
Divinity: Original Sin & Divinity: Original Sin 2
The first Divinity: Original Sin has players take on the role of Source Hunters out on a mission to eradicate those who use a special type of magic known as the Source. The sequel takes place in the same world hundreds of years later. However, this time the players are despised and feared Sourcerers, taken to the prison-island known as Fort Joy for their use of this dangerous type of magic.
True to its name, Divinity: Original Sin 2 allows players to embark on a divine journey and become a God! Gather your party and develop relationships with your companions. Blast your opponents in deep, tactical, turn-based combat. Use the environment as a weapon, use height to your advantage, and manipulate the elements themselves to seal your victory.
Pathfinder: Kingmaker
Explore the Stolen Lands, a region that has been contested territory for centuries. Hundreds of kingdoms have risen and fallen in these lands, and now it is time for you to make your mark—by building your own kingdom! To do so, you'll need to survive the harsh wilderness and the threat of rival nations… as well as threats within your own court.
Torment: Tides of Numenera
Torment: Tides of Numenera is the spiritual successor to the popular cRPG, Planescape: Torment. Torment is set in Numenera's Ninth World, the game provides a vision of a fallen world. Players take on the role of the Last Castoff and work through the game in an attempt to recapture who they are and what their purpose is in Numenera. Characters reconnect to themselves through the stories that others tell about them.
You are born falling from orbit, a new mind in a body once occupied by the Changing God, a being who has cheated death for millennia. If you survive, your journey through the Ninth World will only get stranger… and deadlier. With a host of strange companions – whose motives and goals may help or harm you – you must escape an ancient, unstoppable creature called the Sorrow and answer the question that defines your existence: What does one life matter?
ATOM RPG & Trudograd
ATOM RPG is a post-apocalyptic indie game, inspired by classic CRPGs: Fallout, Wasteland, System Shock, Deus Ex, Baldur's Gate and many others.
In 1986 both the Soviet Union and the Western Bloc were destroyed in mutual nuclear bombings. You are one of the survivors of the nuclear Holocaust. Your mission – to explore the wild and wondrous world of the Soviet Wasteland. To earn your place under the sun. And to investigate a shadowy conspiracy, aimed at destroying all that is left of life on Earth.
Trudograd is a stand-alone expansion that continues the story of the base game. In ATOM RPG: Trudograd your goal is to travel to a giant post-apocalyptic metropolis that withstood the tests of nuclear obliteration and social collapse. There you must find what is thought to be humanity's last hope in fending off the menace from outer space!
Disco Elysium
You're a detective with a unique skill system at your disposal and a whole city block to carve your path across. Interrogate unforgettable characters, crack murders, or take bribes. Become a hero or an absolute disaster of a human being.
Disco Elysium – The Final Cut is the definitive edition of the groundbreaking role-playing game. Pursue your political dreams in new vision quests, meet and question more of the city's locals, and explore a whole extra area. Also enjoy full voice-acting, controller support, and expanded language options.
Wasteland 3
You are a Desert Ranger, fighting a losing battle to keep your beloved Arizona alive, when the self-proclaimed Patriarch of Colorado radios, promising aid if you'll do a job he can only entrust to an outsider—rescue his land from the ambitions of his three bloodthirsty children.
Wasteland 3 is a squad-based roleplaying game from inXile entertainment, featuring challenging tactical combat, hours of exploration, and a deep, reactive story full of twists, turns, and brutal ethical decisions. Play in single-player or co-op as you create a squad of up to six Rangers, and customize them with perks and abilities geared to your playstyle. You even get your own battle truck—the Kodiak—you can upgrade into a hardened war beast, bristling with weapons, to help mow down your enemies.
Pathfinder: Wrath of the Righteous
Developer Owlcat Games released the second game in the Pathfinder RPG series: Wrath of the Righteous. It tells the story of a large-scale conflict between mortals and demons where players are invited to immerse themselves in a world under siege from demonic forces. As a vicious invasion threatens the world, the consequences of one's decisions will forge a unique narrative of their personal battle between good and evil.
Embark on a journey to a realm overrun by demons, explore the nature of good and evil, learn the true cost of power, and rise as a Mythic Hero capable of deeds beyond mortal expectations.
Solasta: Crown of the Magister
Roll for initiative, take attacks of opportunity, manage player location and the verticality of the battle field. Set yourself up for the finishing strike and possibly roll a natural 20 at that key moment of battle.​
In Solasta, you take control of four heroes, each with unique skills that complement one another. Every hero expresses themselves in the adventure, making each action and dialog choice a dynamic part to the story. Players will create their heroes just as they would in a pen-and-paper game by choosing their race, class, personality and rolling for their stats.​
Encased
Encased is a classic isometric RPG set in a dystopian environment allowing you to fight enemies, explore the hostile wasteland, level up your character and join one of the forces in the ruined world that survived through the horrific Incident, isolated from the rest of the world.
Start the game in one of the five divisions of the CRONUS Corporation — Wings, each with its own features, mechanics, and game options. Go on a one way trip under the Dome from which you cannot return. Avoid radiation and anomalies, fight mutated animals and search for unique artifacts.
Expeditions: Rome
Take on the role of a young Legatus whose father was murdered by an unknown political opponent, forcing you to escape Rome and take refuge in the military campaign to subdue a Greek rebellion. Step by step, you increase your military prowess, strengthen yourself in the forge of combat, and become the Legatus everyone learns to both respect, and to fear.
In Expeditions: Rome, you exert the will of Rome through your actions across the world stage, from the bright blue coasts of Greece to the deep forests of Gaul. Decide how people will view you, and Rome. Will you strike with an iron fist, or speak with a silver tongue? Will you embrace the political heritage of the Republic, or carve your own path as you navigate the complex politics of the Roman Senate? Every choice matters as you decide the fate of your legion, your close companions, and of Rome itself.
Upcoming Games:
That's all well and fine, but what happens when you have played all of the above or have no interest in certain titles? Luckily, there is a number of great cRPGs currently in development and they will soon be here!
Baldur's Gate 3
During the Google Stadia Connect reveals, Larian has officially confirmed Baldur's Gate 3. Created in close collaboration with the Dungeons & Dragons team at Wizards of the Coast, Baldur's Gate 3 is based off current D&D mechanics and spells and is the official new chapter in the legendary series.
Baldur's Gate 3 will push the boundaries of the RPG genre and offer a rich narrative with unparalleled player freedom, high-stakes decisions, unique companion characters, and memorable combat. It is Larian Studios' biggest production ever and will be playable together with friends or as a single-player adventure.
Project Witchstone
In a living and reactive world, players will be offered unprecedented options to role play their character and influence their environment, capturing the fun and freedom of a pen & paper RPG campaign.
Jump right in using actions familiar to any RPG fan like dialogue, combat, spells, etc., then experiment with even deeper agency through systems like stealth and the influence interface. Manipulate and shape this world as you see fit, pitting others against one another, incriminating whole factions, and aligning powerful allies to your cause. This game offers you the freedom to live the adventure you want. There is no overarching predefined story. Your decisions will craft a world and experience unique to only you.
Zoria: Age of Shattering
A story-driven, party-based RPG with strong tactical elements, base and follower management that takes place in the expansive Fantasy world of Zoria, a world filled with magic, ancient history, tumultuous politics, and countless mysteries.
Zoria's Gameplay is a unique mix of action-adventure RPG and tactical management. Explore the beautiful lands of Zoria, from mountains to the ocean, towns and dungeons, follow the story or discover its secrets.
Do you have anything to add? Let us know your thoughts in the comments below!