Returning to Heroes of Might and Magic series in the review of Era of Chaos and then reflecting on the long rich story of the franchise left me amazed with how much love fans still have for Heroes 3. So much so one can still find online tournaments as well as various fan modifications that change the game in a meaningful way. Below you can find some of the most impressive fan mods for HoMM3 out there.
HoMM3 HD – High-Resolution Project:
HoMM3 HD is a non-official fan-made addon (multifunction patch) for Heroes of Might and Magic 3 and a must-have for any HoMM3 player with a newer system. The mod changes the game's resolution from 800×600 to up to 4000×4000, adds new functionality and fixes some original bugs.
Initially, the addon was created to change the original game resolution 800×600 to a bigger but now it has even more features. HoMM 3 HD does not affect the original gameplay and improves the interface functionality, makes it more comfortable to play and fixes a some original game bugs. All the tiny graphical improvements preserve the original game style. HoMM 3 HD does not affect the original game files. This means that you can launch the original version with no changes from the very folder where the HoMM 3 HD was installed.
Thanks to @weilan for the suggestion!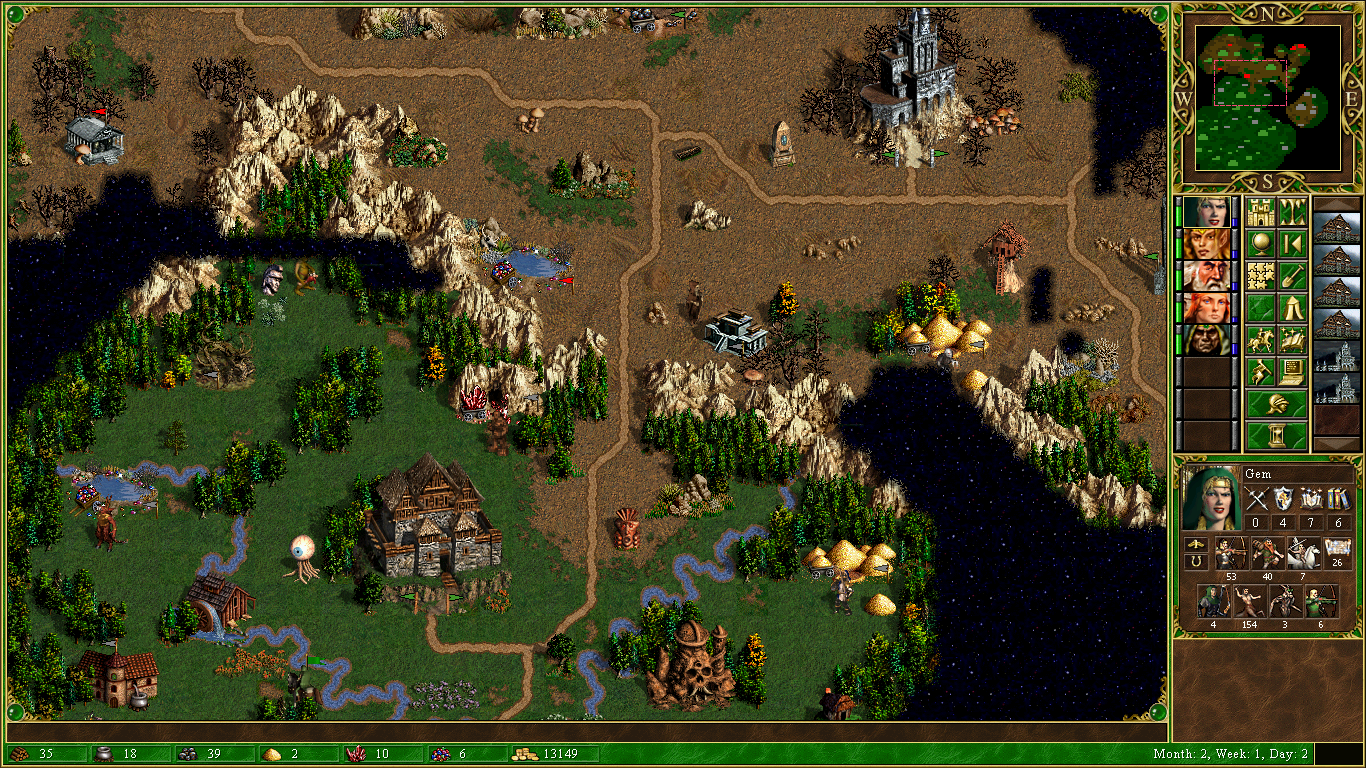 HoMM3: Horn of the Abyss
Horn of the Abyss or HotA is a fan-made modification for HoMM3: Shadow of Death aimed at enhancing gameplay, in-game balance and graphics of the original game while preserving its mechanical side. The team believes that the two expansions to Heroes 3 (Armageddon's Blade and Shadow of Death) did not reveal the true potential of the game due to in parts the lack of content elements.
Horn of the Abyss introduces new campaigns as well as various scenarios, new neutral creatures, objects, artifacts and more.
One of the most impressive parts of the modification is the new town known as the Cove, reflecting the theme of pirates of Regna. The developers are working on another town called Factory that will receive its own campaign as well.
Note: HotA requires clean HoMM3: Shadow of Death or the HoMM3 Complete Edition in order to be installed successfully. 
HoMM3: The Succession Wars
Fans of the series will know that The Succession Wars were the main campaign of the base HoMM2 game. Heroes of Might and Magic III: The Succession Wars is a total conversion of Heroes III dedicated to the fairy-tale atmosphere and graphic style of its prequel, Heroes II. The modification adds a lot of new content, such as creatures, castles, and artifacts to name a few, and provides fresh gaming impressions as well as a great amount of nostalgic feelings at the same time.
The developers' plans mention the expansion of the project to include the evolution of the story of Enroth, reflecting the Might & Magic RPG series from New World Computing.
Note: the modification requires clean HoMM3: Shadow of Death/Complete Edition. No mods, including WoG, HotA or HD.
HoMM 3.5: In the Wake of Gods
Heroes of Might and Magic III: In the Wake of Gods (WoG, ERA) is a massive fan-modification of Heroes 3, stretching the boundaries of the original game's capabilities and revamping the gameplay in a major way. WoG presents new objects with various properties, drastically changed and improved creature abilities and a wide variety of custom scripts.
Some of the things added in WoG include new tier 8 creatures, the ability to destroy and build towns, new neutral creatures, artifacts, map objects, towns and more.
It can be tricky to install In the Wake of Gods without running into any errors so the website of the modification has a lengthy guide on how to do so.
Note: for the installation, it is required to have Heroes 3 installed on your computer, ideally the Complete version, highly recommended from the site GOG.COM.
Special mentions:
Legend of the Red Dragon – new spells, creatures, artifacts and more.
The Tides of War – Alternative units are the core of the mod, but it features much more: new splash screen, new graphics, skills, objects, spells, heroes and so on.
Master of Puppets – Master of Puppets is a global HoMM 3 mod, initially based on WoG, featuring: 200+ new artifacts, 7 new spells and 2 new secondary skills, 80+ new creatures, including raid bosses and new siege machine – aerostat. New map objects with unique events, creature banks and landscape.
Upcoming games like Heroes of Might and Magic:
Sadly, there are no mainstream Heroes games by Ubisoft coming any time soon. If you were looking for a game like Heroes of Might and Magic releasing in the near future, then you might be interested in Songs of Conquest and King's Bounty 2.
Songs of Conquest
Announced during E3 2019, Songs of Conquest is a turn-based strategy inspired by Heroes of Might and Magic II. The game is planned for release in late 2020 for PC and Mac. Check out its official site to find out more!
Songs of Conquest is a turn-based game where you build a kingdom, raise armies and control powerful magicians called wielders. You'll quest around for loot, fight monsters, optimize build orders and strategies to pick off the enemy teams. We call it Classic Adventure Strategy, for short.
King's Bounty 2
The descendant of 1990's King's Bounty and the sequel to 2008's King's Bounty: The Legend, King's Bounty 2 will feature a vast fantasy world that expertly blends beloved genre tropes with gritty realism to ensure players remain grounded in this desperate, realm-wide struggle. Coming to Nintendo Switch, Windows PC, PS4 and Xbox One in 2020.
Told through the lens of a highly cinematic experience, King's Bounty II puts choice in players' hands rather than their mouths. Instead of hinging on simple dialogue choices, it is the players' actions that hold the true weight. As players explore the realm, their stories change as they align themselves with different Ideals: Strength, Art, Order, and Anarchy.
Disciples: Liberation
Liberate the land of Nevendaar and uncover the endless stories hidden within this richly detailed world where every decision has a consequence, and every wrong move could be deadly. Explore a rich overworld and align with a variety of in-world factions: from a human empire tinged by religious extremism to the dark forces of the undead lead by a mad queen. Assemble a team to gather precious resources, sway political standing, and take on brutal beasts in intricate turn-based battles.