Despite May coming to an end, the Nintendo eShop continues to burst with new games coming to Switch for the enjoyment of gamers around the world. From puzzles to adventures to action-driven role-playing games, this week's selection can grab the attention of any kind of player!
Family Vacation: California
Single-player adventure/puzzle
Release date: May 27
Join the Simmons family as they embark on their Family Vacation to sunny California in this family-friendly adventure.
Hit the beach, take in a ballgame and ride the rollercoaster at the theme park all before helping the family compete on the game show;
Help Barb win the main prize and whole family to celebrate their great trip to California!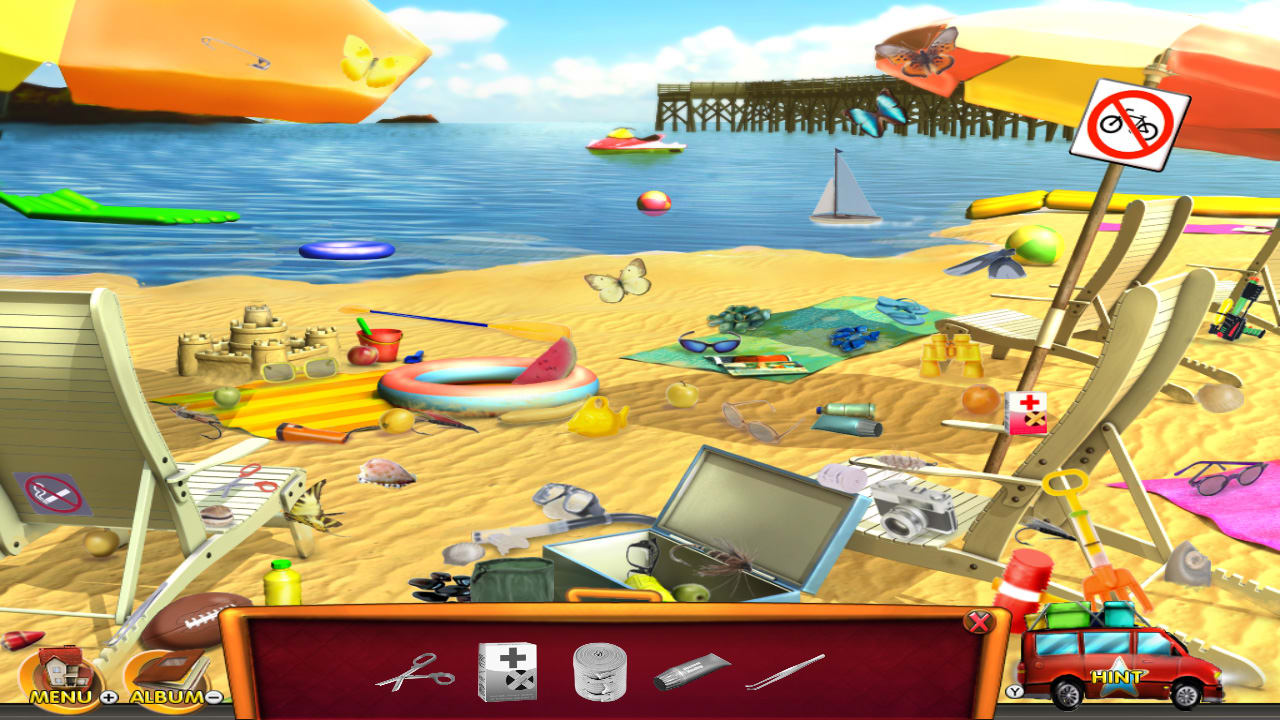 Best Sniper Legacy: Dino Hunt & Shooter 3D
Single-player first-person action
Release date: May 27
What kind of legacy do you want to leave as the last sniper leaving on Earth? Breathe in and ready your weapon!
Have you got what it takes to bring down wild dinosaurs and bloodthirsty zombies in the ultimate hunting game?
A failed experiment has created monstrous creations that roam Earth's post-apocalyptic wasteland. As an elite shooter, you must now hunt to survive. Complete missions to unlock powerful new weapons and become the ultimate sniper.
Horse Club Adventures
Single-player adventure/racing
Release date: May 27
Horse Club Adventures carries you off to the wonderful world that revolves around the Lakeside Riding Stable. Together with Hannah, Sarah, Lisa, Sofia and their horses, you experience lots of thrilling adventures! There is an amazing amount to discover in this open-world game. The popular Horse Club game characters and the lovingly designed locations at Lakeside, such as the café, the caravan and the riding stable, are brought to life here.
Weaving Tides
Single-player indie adventure
Release date: May 27
Call your Weaver and set out on a journey to explore ancient dungeons, solve puzzles, challenge quirky creatures, and unravel the great mysteries of a long-forgotten past! Weaving Tides is a charming single-player adventure set in a world of magic and textile. Ride on the back of carpet dragons and explore a stunning landscape, as you soar above and dive below the weave.
EARTH DEFENSE FORCE: WORLD BROTHERS
Action for up to 4 players
Release date: May 27
The Earth has been shattered into pieces. EDF soldiers are fighting desperately on their own in various countries around the world. Rescue these soldiers to have them join you, and assemble your own unique team. Each mission can be attempted with up to 4 teammates. Switch among your teammates as you go, making use of each character's unique traits which shall prove useful in battle at different times.
Sumire
Single-player adventure
Release date: May 27
Sumire is an indie narrative adventure, featuring a one-day journey through a picturesque Japanese village. In this enchanted place, a disenchanted girl named Sumire meets a mischievous spirit who makes her a deal to fulfill her most desired wish.
But in order to see this wish come true, she must complete a series of tasks in return, before night falls and this special day reaches its end.
Crying Suns
Single-player strategy/RPG
Release date: May 27
Crying Suns is a tactical rogue-lite that puts you in the role of a space fleet commander as you explore a mysteriously fallen empire. In this story-rich experience, each successful run will uncover the truth about the empire…and yourself as well.
Main Features:
Space exploration in a procedurally-generated universe
Tactical fights between battleships and their squadron fleets
More than 300 possible story events
A deep and dramatic storyline structured in 6 chapters
A dark and disturbing atmosphere inspired by our favorite science fiction universes
32 Secs
Single-player adventure/racing
Release date: May 27
Take the city at extreme velocity! Hop your motorcycle and complete various races, time trials and other challenges in a sci-fi metropolis with high-speed! Hit the asphalt hard, zig-zag between bikes and racing cars on vibrant neon lit streets.
Hack, boost and maneuver with different futuristic bikes on endless highways! Tune up your vehicle with system updates and hardware upgrades – be the fastest racer in this rapid rush! Improve your racing skills and reflexes, dodge enemy bikes, beat the other racers and try to become the master of the asphalt! Get higher speed and exact handling, use boosts and hacking tactically to leave your foes behind. Compete for the best trial time with other real riders. Discover the glowing, futuristic streets, find every boost, beat every boss and collect as many coins as you can to upgrade your vehicle reaching extreme high speed! Unlock new vehicles, customize your bikes, make them faster, harder, stronger!
Warhammer Age of Sigmar: Storm Ground
Strategy for up to 2 players
Release date: May 27
Become the commander of one of the extraordinary factions of Warhammer Age of Sigmar – a dark-fantasy universe where immortal knights ride heavenly stardrakes to eradicate Death across a multitude of realms. This is Storm Ground, a world of legends, heroes, hellish creatures and fearsome battles.
Lead your highly-customisable force in this dynamic and spectacular skirmish turn-based strategy game packed with fast-paced warfare. Victories allow you to collect and upgrade new types of units, powerful equipment, and unlock devastating skills.
Pecaminosa – a pixel noir game
Single-player action/adventure
Release date: May 27
Pecaminosa blends the charm of pixel art and the mechanics of an Action RPG with the atmosphere of film noir. You have not seen and played anything like it. Interrogate suspects, explore a city dominated by crime and sin, and never hesitate to use your fists and guns. These are hard times in a very tough city.
Customize your character's appearance and equipment and have it evolve through the L.I.F.E. system, distributing experience points into four different parameters: Luck, Intelligence, Force and Endurance. Play Blackjack to earn extra money, visit the liquor store, socialize with the scum, visit the police station and the brothel, in addition to other venues recreated with great graphic detail… and don't trust anyone. There is a bullet with your name on it, and it's eager to meet you.
https://youtu.be/XWzfRZDirj8
Pathway
Single-player adventure/strategy
Release date: May 27
In 1936, Nazi influence has spread, along with rumours of secret excavations, mysterious artefacts, and gruesome occult rituals… Assemble a bold team of adventurers and journey through the desert-wilderness. Outwit foes in strategic squad combat and locate ancient treasures before they fall into the wrong hands!
Eight Dragons
Arcade/fighting for up to 8 players
Release date: May 27
Crooked businessman KANE has taken over the city. Can the Eight Dragons take it back?
Using fists, feet and whatever weapons come to hand, the Eight Dragons must fight their way from one end of the city to the other, to reach their ultimate showdown. But each Dragon has a different path – it's only when they come together that their true destiny is unlocked, as their stories intertwine and the full epic fight is revealed!
Fishing Fighters
Sim for up to 8 players
Release date: May 27
Fishing Fighters is a unique competitive experience sure to lure not only fishing enthusiasts, but friends and family as well. Get hooked on a new type of party game as you compete in fierce fish-offs with up to 8 players or simply relax and enjoy your favorite fishing spots together.
Catch the game's extensive Story Mode where you take on challenging rival battles in search of the elusive legendary fish. Select from an ocean of options, including deep sea, river, and lake fishing, along with a boatload of bait, lures, and equipment.
Enjoy authentic angling realism with the motion sensor and rumble features of the Nintendo Switch Joy-Con controllers.
World's End Club
Single-player adventure
Release date: May 28
Renowned game writers Kotaro Uchikoshi and Kazutaka Kodaka return with a brand-new game that's easy to dive into and full of twists and turns. This charming and vivid story of friendship and mystery will captivate new and experienced players alike!
The "Go-Getters Club," a group of misfit students from all over Japan, find themselves trapped in a strange theme park during a class trip. In order to unravel the mystery of their circumstances and find an escape, they must take part in a "Game of Fate" that will test their bonds of friendship! With colorful visuals, charming characters, accessible gameplay, and a compelling story, this is an experience you will never forget!
Long Ago: A Puzzle Tale
Single-player puzzle
Release date: May 28
Long Ago: A Puzzle Tale is a relaxing puzzle game combined with a modern fairy tale told in rhyme. Experience a beautiful colorful world and follow the story of a brave princess striving for freedom and adventure when everyone around her tries to keep her in line with the status quo.
Solve intuitive puzzles, collect feathers to reveal the story, gems to unlock new levels and coins to customize how the ball you're playing with looks. Discover new mechanics as you progress in a campaign consisting of 80 levels plus 30 variations. Each new chapter brings with it a new visual theme for both the play areas and the menu environment, in addition to new music tracks. Experience beautiful settings including windy summer forests, barren deserts, mountain forests at night and town squares.
Port Royale 4
Single-player sim
Release date: May 28
Set sail and join the colonial powers of Spain, England, France and the Netherlands in their fight for supremacy of the Caribbean in the 17th century.
In 'Port Royale 4' you will take control of a colony as a young and ambitious governor who is eager to learn what it takes to manage and grow his small settlement into a bustling trader city.
Beautiful Desolation
Single-player adventure/RPG
Release date: May 28
Mark and his brother Don are flung into a futuristic era ruled by highly advanced technologies both revered and reviled.
The inhabitants of this African apocalyptic world will help or hinder you as you make new discoveries and navigate the spectacular landscape. Negotiate your passage with local leaders, healers and warriors, or find yourself embroiled in a battle against nanite swarms, enormous scorpions and rocket-equipped robots.
From thriving villages to crumbling cities, petrified forests and bone-dry ocean beds, this strange new world holds a multitude of terrains to uncover, beautifully rendered in 2D isometric art. Explore, solve puzzles and be prepared to face many tough choices that will shape this land long after you complete your journey.
Wonder Boy Asha In Monster World
Single-player action/RPG
Release date: May 28
The adventures of Asha and Pepeloglu begin!
Asha, the warrior protagonist of the game, is involved in a serious incident that will affect the survival of her world. Our green-haired heroine doesn't have to save the world all alone, and sets off on an adventure with her cute flying friend, the blue Pepelogoo. Asha and the Pepelogoo have to work together to become the heroes the world needs them to be. The road ahead is long – will they be able to save their world?
Stray Cat Doors2
Single-player adventure/puzzle
Release date: May 29
t's a escape adventure game where you solve the mystery and clear each stage with a cute character.
For those who have not played the previous game do not worry because you can enjoy it without problems.
In this new work, you can now operate the character and explore the stage together.
If you find difficult to solve any mystery, the hint function will help you so even beginners can enjoy it.
In addition, you can change the character's costume, redecorate the room, change the background music,
A variety of new features have been added.
The kitties from the previous work will also appear. Please be healed by the warm heart of those kitties.
In addition, many other characters will appear making the game colorfully.