Electronic Arts and Respawn Entertainment have launched a free-to-play Battle Royale set in the Titanfall universe. Apex Legends is available now on PC, PS4 and Xbox One and presents players with a cast of unique characters, squad-based gameplay, innovative mechanics and more.
"Our goal in every game you play is that you come in with a plan but you leave with a story," said Drew McCoy, Lead Producer for Apex Legends. "We're building a game that is not only going to deliver a fun and memorable experience at launch, but something we can keep growing for a long time to come."
Before the match begins, players are able to choose their drop point, use Respawn Beacons, take advantage of the Ping communication system to call out enemies and much more.
The first season of Apex Legends is scheduled to kick off in March and will give players the opportunity to purchase a Battle Pass to gain access to exclusive cosmetic items earned through gameplay. Apex Legends will follow a seasonal model with each themed season bringing new content to the game in the form of new weapons, new Legends, new skins and more.
In under 8 hours since the launch of the game, Apex Legends had seen over a million unique players.
I'm so overwhelmed right now, @PlayApex broke a million unique players in under 8 hours. ❤️❤️❤️

Thank you so much for showing up and being part of this with @Respawn you are amazing!! pic.twitter.com/lvNgfwwKhl

— Vince Zampella (@VinceZampella) February 5, 2019
While set in the Titanfall universe, the game does not feature wall-running. The developers promise to try new stuff as they go, however.
Wasn't as fun and balanced. We'll try new stuff as we go.

— Vince Zampella (@VinceZampella) February 5, 2019
The gameplay deep dive video you can find below has also featured the year one roadmap for the game!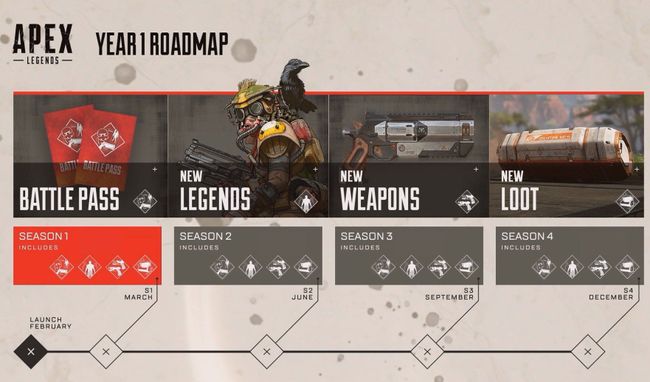 Per the image, there will be 4 Seasons / Battle Passes in 2019, set in March, June, September, and December respectively. The game's FAQ on sheds more light on what players might expect:
What is the Battle Pass? The Battle Pass is a seasonal system that rewards players with exclusive cosmetic items. These rewards are a mix of exclusive seasonal cosmetics and Apex Packs. Every player can unlock some of these items each season through normal play; those who choose to purchase the Battle Pass can earn everything available that season, around 100 different rewards.
Do I keep everything I've earned with Battle Pass once the Season ends? Yes, everything you earn with the Battle Pass is yours to keep, even after the Season is over.
Do I get Legends by purchasing a Battle Pass? No, Legends will not be included in the Battle Pass. The Battle Pass gives players exclusive cosmetic items and Apex Packs.
How long are Seasons? Each season will run for approximately three months.