Fashion plays an important role in the life of any modern person all over the world. Today we'd like to tell you more about The Sims 4 kits that are tightly entwined with fashion and style.
Incheon Arrivals Kit and Fashion Street Kit have been added to the game as a part of the Season of Selves. As defined by the developers, it is new content that defies borders and norms and encourages self-expression and creativity.
The first Kit, Incheon Arrivals, was created together with Jazzy Cho (Miss Korea USA 2016). South Korea became very popular with today's youth in recent years thanks to k-pop, doramas, manhua (manhwa) and, of course, fashion.
If you are visiting Seoul for the first time, you will find yourself at the Incheon International Airport – the very best place to start your acquaintance with the bright and rich culture of the country. Seoul is also considered one of the modern capitals of fashion, with the South Korean style becoming more and more popular abroad.
Who sets the fashion standards in the country? Celebrities, of course! K-pop performers and actors of Korean doramas are winning the hearts of millions of people around the world.
Who is Jazzy Cho? The young woman is a Korean-American raised in Southern California. Soon after she won the Miss Korea USA 2016 beauty pageant, Jazzy Cho began to constantly move between Korea and the USA. Through those flights, she noticed that people she encountered at the Incheon Airport looked very unusual:
"Because the world has become more globalized, South Korean people have been able to see trends across the world," explains Jazzy Cho. "Everything was sort of meshing together, and we were able to bring in the western ideas, or global ideas with the already creative DNA of South Koreans. Combined, that created this amazing, stylish, trendy 'K-fashion.'"
"It's great that the setting of the kit is at the Incheon Airport because that is the global hub. It's where people from all over the world come to embark on their journey to learn about South Korea fashion. I hope people from all walks of life, wherever they are in the world, have an open and eager and excited mindset and energy towards exploring what Korean fashion is like." – Jazzy Cho
You can find out more about her on the official Sims page dedicated to the Incheon Arrivals kit.
The kit includes Korean traditional attire, the hanbok that consists of a long wrap-around skirt or loose trousers and a blouse or a jacket.
Incheon Arrivals does not include:
New hairstyles
Hats
Accessories
Make-up
The Kit adds:
A lovely business jacket that comes with a crop-top or a turtleneck
Baggy items such as hoodies and pants
Knitted vests of solid color or featuring colorful patterns
Jumper with a t-shirt underneath
A stylish long coat that looks amazing with both crop-tops and blouses. Comes in delicate colors
Various skirts (pleated, long, short, tennis)
Classic straight pants with a low rise
Ripped jeans
Classic shoes, sneakers, boots
A warm jacket
Incheon Arrivals' selection of clothes is flowy and fabulous, yet stylish and minimalistic. Decking your Sims out in this Kit's offering immediately gives them a sharp look like they are ready to hit the ground running, in search of a new adventure or experience.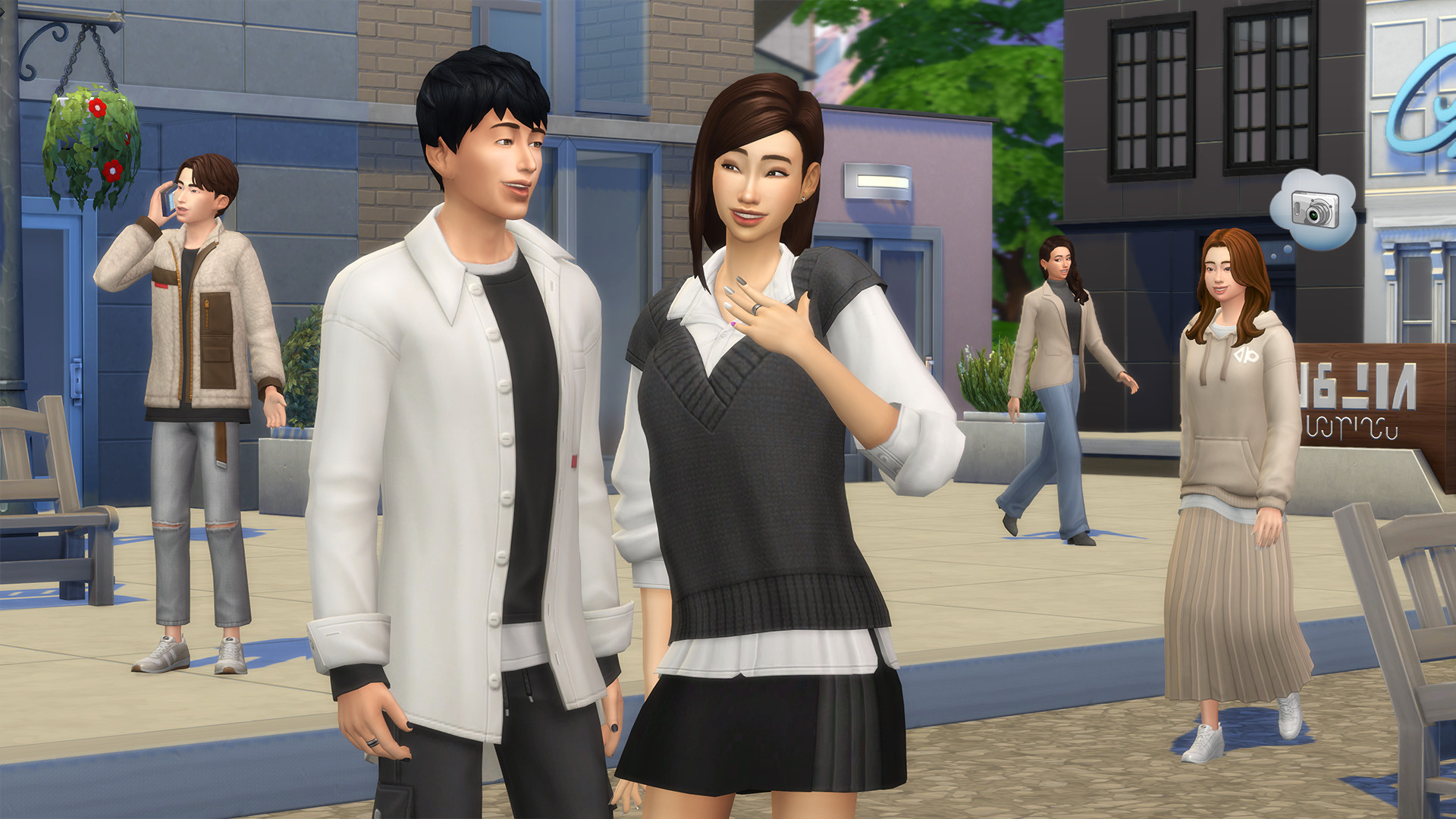 The second Kit, Fashion Street, has been developed in partnership with Shruti Sitara Singh.
In the center of the Indian metropolis of Mumbai, there is an old street that contains anything fashion-related your heart could ever desire. We are talking about Fashion Street. Once there, you can enjoy wonderful music and architecture, taste the local cuisine and maybe even meet a Bollywood celebrity!
With the Fashion Street Kit, the developers invite players to experience the incredible style of the people of Mumbai. The Sims team worked with fashion connoisseur Shruti Sitara Singh to create a realistic wardrobe full of vibrant hues and contrasting patterns, blending together traditional cuts and trendy outfits.
Born, raised and currently based in Mumbai, Shruti Sitara Singh creates projects that combine many different directions: theater, music, design, etc. She has a lot of experience in the field of fashion as she worked with the Fashion Design Council of India and served as a creative direction for Lakmé Fashion Week.
"My first shopping experience was when I was in fourth grade," reminisces Singh. "My mother had taken my sister and I to Fashion Street, and we were like 'what is going on? There's something known as shopping?' That concept didn't exist to me before that."
Fashion Street Kit is inspired by the creativity of the city, but it's hard to talk about the style of Mumbai without mentioning the shopping street. Mumbai is frequently called "the City of Dreams" because there are many working spaces for people from all over India and neighboring counties. In this regard, it's possible to meet different cultures and nationalities while visiting Fashion Street.
"The Fashion Street Kit is inspired by a lot of India, and of course Mumbai," explains Singh. "It's inspired by the Indian handloom (weaving) industry, which is preserving and rendering a beautiful picture of our age old heritage, known worldwide for its richness and purity of its textiles. Each piece is adorned with lively colors and prints specific to different cultures, because Mumbai, the City of Dreams, is a melting pot." 
You can find out more by watching the video starring Shruti Sitara Singh or checking out EA's overview of the kit on the official site.
The Sims 4: Fashion Street Kit contains tons of items for all types of characters: from nose rings, henna tattoos and sandals to form-fitting skirts and asymmetrical vests.
The Kit does not feature:
The Kit includes:
Nose rings, earrings, glasses, jewelry such as necklaces and bracelets
Colorful tunics, sleeveless jackets for men
One-piece suits
Traditional costumes for men and women
Evening Sari dress
Slacks
Wrap skirts
Various traditional sandals
Mehendi tattoos
Overall, the clothes featured in the Kit will give your Sims beautiful silhouettes, layered but breathing.
I believe that these two additions to The Sims 4 will delight the fans of Eastern fashion. I'd also like to note that there aren't enough interior items that would have helped to immerse players in the life of Seoul or Mumbai.