Electronic Arts shared a new lengthy blog post for the upcoming Star Wars Squadrons detailing ranks, rewards and progression system following the details on customization.
The developers repeat that Squadrons is a self-contained game with all the progression, unlocks and rewards being earned solely through play.
The core pillars of Squadrons' online experience (outside of the game modes themselves) are Challenges, Operations, and your Level. Within each of these are ways for you to be rewarded with Glory, a currency only earned by playing that's used to unlock cosmetics. You'll also get Experience (XP) while playing from just about everything, allowing you to level up and earn Requisition, the currency used to unlock ship components.
Star Wars Squadrons Challenges:
Challenges are timed, rotating objectives you can complete to get rewards while playing. They will also serve as your main form of reward beyond post-match earnings.
You'll want to regularly complete your Daily Challenges to keep getting rewarded while playing Squadrons. They're often simple objectives that provide you with Glory to unlock cosmetics for your starfighters and pilots and encourage you to try different ships and components to achieve completion. Glory is also earned based on how you perform in a match. Operation Challenges, however, are different. They can reward you with unique cosmetics and are tied to the game's ongoing Operations.
Star Wars Squadrons Operations & Ranks:
Operations are 8-week cycles that bring a set of unique cosmetic rewards that can only be earned by completing its Challenges. Certain Challenges also offer unique rewards, too, so once they're gone, you won't be able to get the cosmetic unless the Operation Challenges return one day. Seeing which pilots are showing off their unique flair will be a good way to tell if you're up against a dedicated ace.
Also tied into these 8-week resets is your Fleet Battles rank. With every Operation's conclusion and the start of a new one, your competitive rank tied to Fleet Battles will reset, allowing for a regular reassessment of your skills. To get your first rank, you'll need to play in ten placement matches.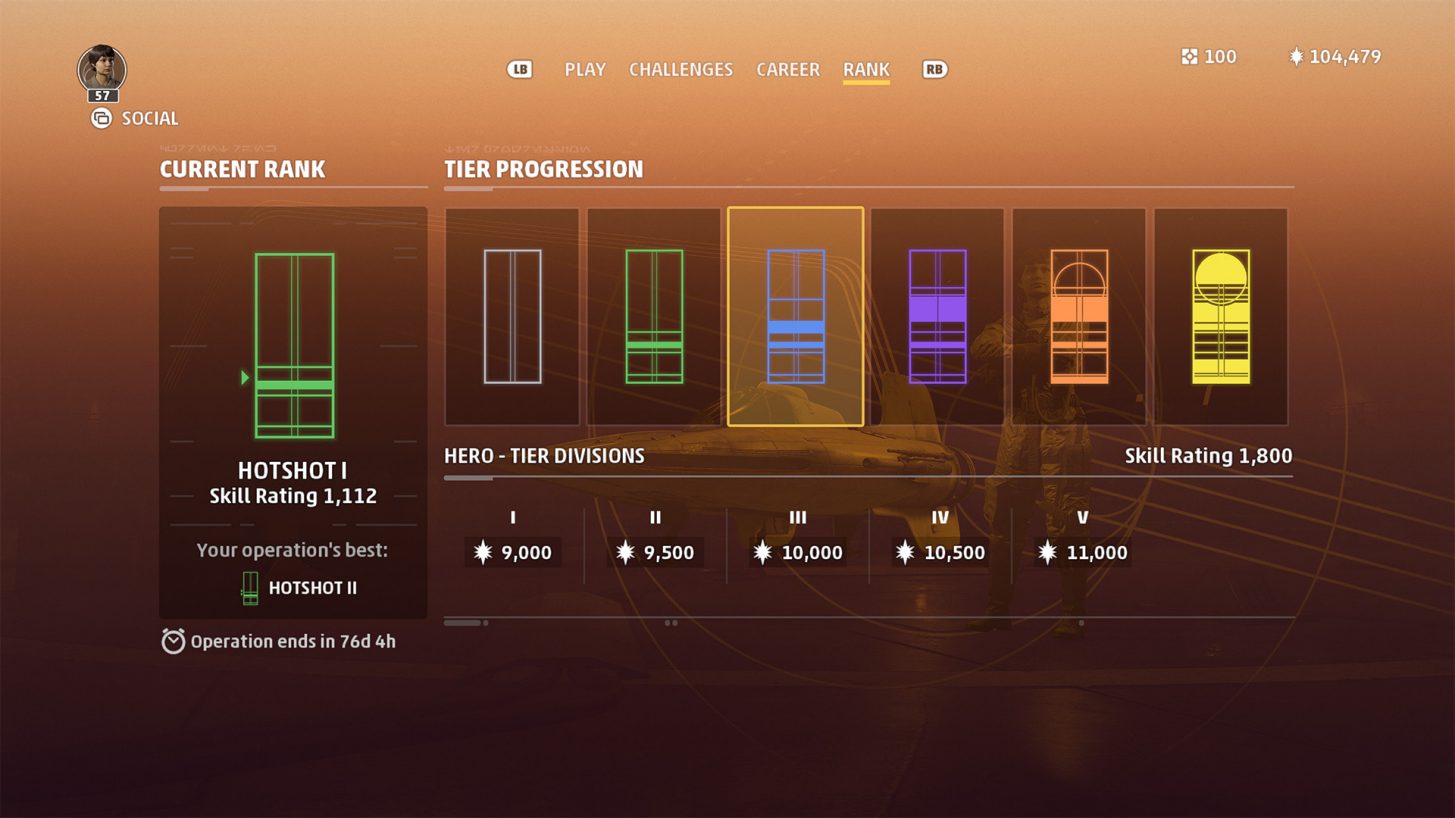 Star Wars Squadrons Levels:
Players also have their own personal level. Your level is a linear progression path that does not reset, unlike your competitive rank. For the first forty levels, you'll unlock Requisition points that can be used to unlock ship components. If you're one of our more dedicated pilots and you hit level 40, you'll have enough points to unlock all components, allowing you to try out every potential starfighter build. Our goal with levelling isn't that you'll get more powerful as you level up, but rather that you'll have more options available to you (via components) as you play.
Star Wars Squadrons is coming October 2 to PS4, Xbox One and PC.