Are you ready to farm?! Because with the arrival of Cottage Living, the latest expansion pack coming to The Sims 4 on July 22nd, your sims can move to Henford-on-Bagley and immerse themselves in the village life.
Of course, the quaint charm of a small village would not be complete without farm animals such as llamas or cows, chickens, wild animals like rabbits or foxes, helpful neighbors that will give you small tasks, food to grow, local challenges, festivals, fairs, and much, much more!
Note: the article was written after playing a special standalone preview build of The Sims 4: Cottage Living expansion pack shared by Electronic Arts. Thus it was impossible to test some things, for example the interaction between Cottage Living and the other Sims 4 DLCs such as Seasons or Cats and Dogs.
Are you positively done with the bustling city life or have you always admired the cottagecore aesthetic? If so, Cottage Living is the pack just for you! Much like Snowy Escape with Mt. Komorebi, the new expansion pack features an entirely new beautiful area for your Sims to visit.
You can either rent a house for a short stay in Henford-on-Bagley, or move to the location for good to embrace the quiet village life, animal friends and the close-knit community with its weekly fairs.
The expansion pack starts delivering as soon as you enter the character creation mode: in addition to the new aspirations aimed at animals, fishing, plants and collecting/exploring respectively, the DLC also features a variety of new clothes to make your Sims look like they belong.
Of course, there are also plenty of new items in the Build Mode, ranging from new doors, windows, furniture, and expansion-specific objects like a chicken coop or an animal shed that can house your cow or llama, whatever strikes your fancy.
Not only are the animals in Cottage Living a source of companionship and highly amusing and spirited creatures to watch, but you can live completely off the land! While there are no new jobs arriving in the expansion, the breadth of content when it comes to livestock and farming is a breath of fresh country air.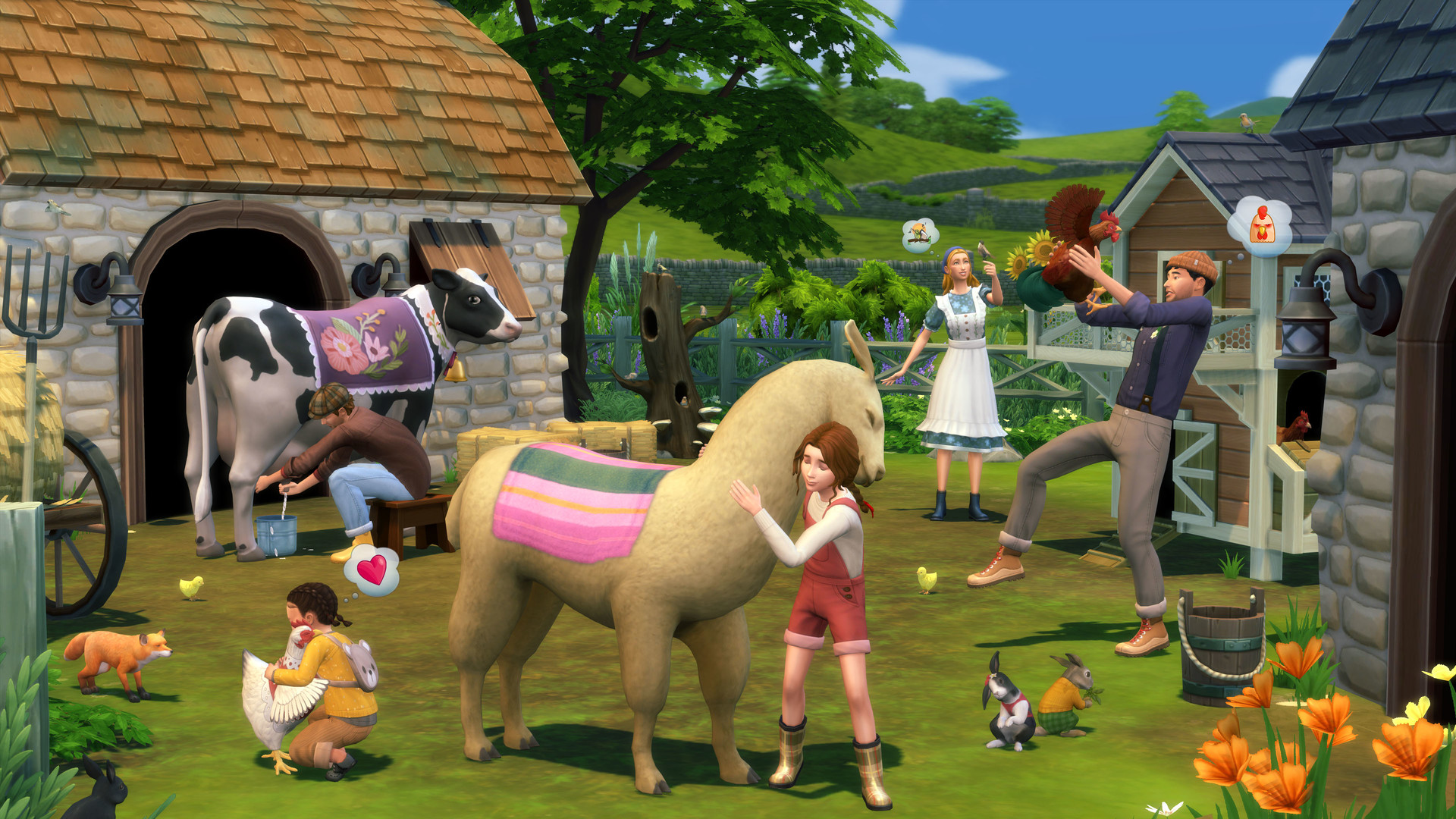 Your Sims, especially the animal enthusiasts, have a variety of ways to interact with animals on your farm: from feeding and cleaning them and their living spaces, to singing to them, telling dad jokes, offering treats, and trying to get some produce. Chickens produce eggs, cows can give you milk, and llamas provided they are not in a dramatic mood, can be a source of wool.
The animal interactions in Cottage Living are not limited to adults, so bring your Sims kids along for some wholesome moments. Just make sure they don't anger chickens too much, or their parents may pay for that!
If you want to feel like a Disney princess, you can attempt to befriend local wild critters such as foxes, rabbits, or even flocks of birds. Speaking of foxes, you better watch out for these fluffy traitors! One second they play with your Sims, and another and they try to steal your chickens' eggs.
The animal models ooze cuteness but paired with the smooth detailed animations that show how a cow is eyeballing you, a llama decides to intervene in a fox's latest stealing stunt, rabbits sit on their hind legs, birds bomb an unlucky sim or a rooster goes on a murder spree after an owner that got on his bad side? They're the best thing that happened to the Sims 4 just yet, besides maybe Seasons & Cats and Dogs.
Speaking of Cats & Dogs, the developers have revealed that the previous DLC's animals will be aware of Cottage Living's newcomers. Dogs will help their owners protect chickens from foxes, but don't expect direct interactions among the furry community.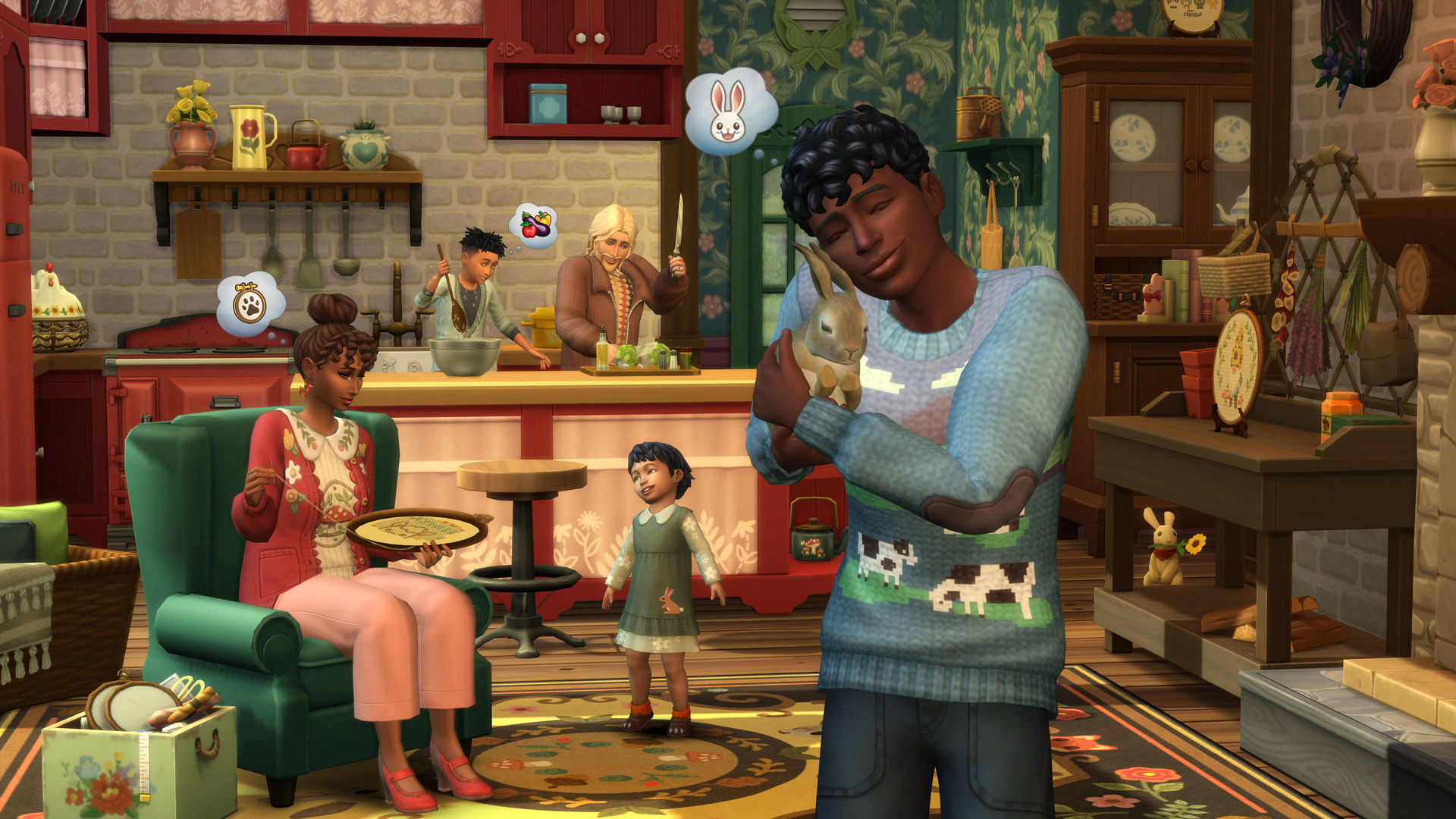 Another new thing arriving in Cottage Living is the addition of the Lot Challenges such as Wild Foxes or Clean Living. The latter requires you to actually have certain fresh ingredients in order to cook each meal. You can either grow your own vegetables and herbs, fish, collect eggs, forage in the wild, or produce them yourself via other means, or use other ways to ensure your Sim family doesn't starve.
Of particular note is visiting the village market to purchase missing products or the newly added option to order a delivery in case you find yourself lacking a particular ingredient.
Of course, if you are not interested in the Lot Challenges, you can always turn them off in the game options. The same can be done with animal aging.
If you find yourself having extra ingredients, you can always drop by the weekly town fair to show off or use the new option to can some of them.
The DLC also added a new option to grow oversized vegetables that will be a star of any fair you decide to visit! Speaking of fairs, the updated Calendar system that will be coming to the base game when Cottage Living releases, will help you keep track of all the upcoming events.
Henford-on-Bagley is home to a cast of various unique characters, including the one and only grumpy Mrs. Crumplebottom and her hatred of all things romance. If you live on the edge, you can try being romantic in front of or – if you are especially daring! – to her to see what happens.
Your Sims can build relationships with the local community and even do little tasks for the neighbors with the newly-added NPC quests. Surprisingly, they are not just fetch quests!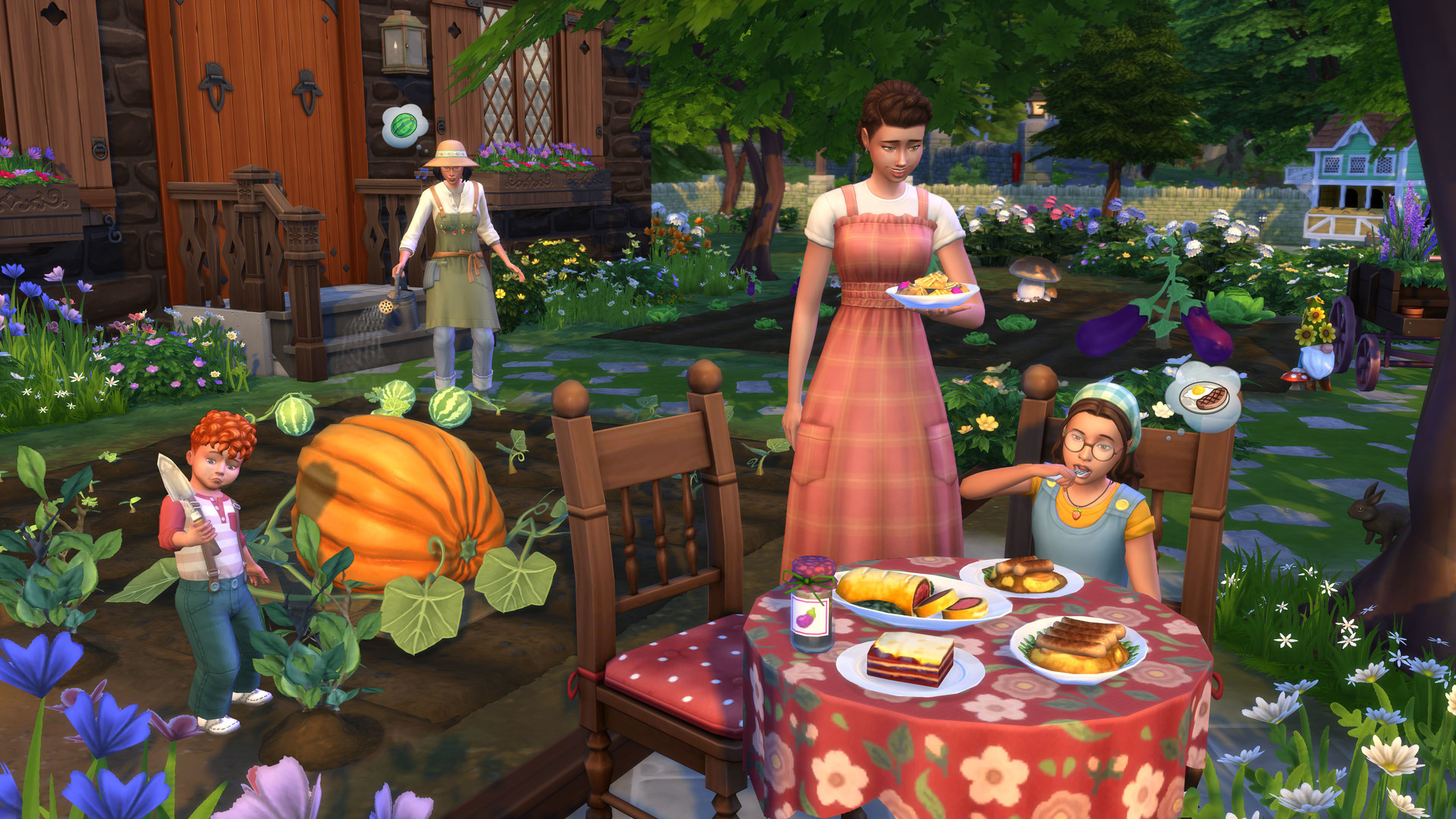 The Sims 4: Cottage Living will be arriving on PS4, Xbox One, and PC via Origin & Steam on July 22nd. The expansion has everything it needs to be considered one of the best ones yet released for the Sims 4.
While the DLC sadly does not introduce horses or other domesticated birds besides chickens, the new content arriving with the pack greatly expands the Sims 4 in terms of features and gameplay elements. Are you up for connecting with nature in a variety of ways? If so, Henford-on-Bagley awaits!