Following a lengthy trek in the Dark Times England, it is time to pack the gear for hiking and depart for a winter wonderland in Mt. Komorebi, the latest addition to the world of The Sims 4 in the Snowy Escape expansion pack. 
The new region has everything needed for a family vacation: from sledding and hiking to festivals and bathhouses. No matter how old your sim is or what they like, there will be something to enjoy at Mt. Komorebi. 
Snowy Escape offers more than just a one-time getaway, however. If you feel like starting your life with a fresh leaf, you can choose to move to the new region and embrace its unique culture. 
Snowy Escape adds over 130 new choices to the Create-a-Sim mode, including winter-themed outfits and traditional Japanese clothes for sims of all ages. School-going kids of Mt. Komorebi also have neat uniforms. 
The team also introduced a free December update that revamped character creation and added over a hundred new skin tones. Every skin tone now has a value slider which opens up new customization. 
Sliders are also available when choosing a sim's makeup: hue, saturation, value or brightness, and opacity are now available to be modified.
With those additions, character creation in The Sims 4 feels like an entirely new game.
It's here – and a day early! Today, a free game update brings you 100+ skin tones, customization tools for skin tones and makeup, three improved base game hairstyles, and a main menu makeover. Available now to all The Sims 4 players! pic.twitter.com/p7QIIkI74d

— The Sims (@TheSims) December 7, 2020
If you aim to explore Mt. Komorebi to the fullest, there is no better way than choosing between the two new Aspirations.
Extreme Sports Enthusiast type of sims would be delighted at the opportunity to partake in more active types of adventures: sledding, snowboarding, hiking, climbing the steep peaks and other adrenaline-filled activities. Beware, taking on harder challenges can spell doom for unprepared thrill-seekers.
If you're more into checking out festivals, relaxing in hot springs or sight-seeing, Mt. Komorebi Sightseer Aspiration is just what you need. Nothing beats exploring the new addition to the game world while simultaneously grabbing a bunch of Aspiration points!
Of course, nothing prevents players from using existing households in Mt. Komorebi. For the first time, the game allows Simmers to rent a property for the duration of their stay. Don't worry if it doesn't have enough beds or toddler items: you can add extra furniture to fulfill all of your characters' needs.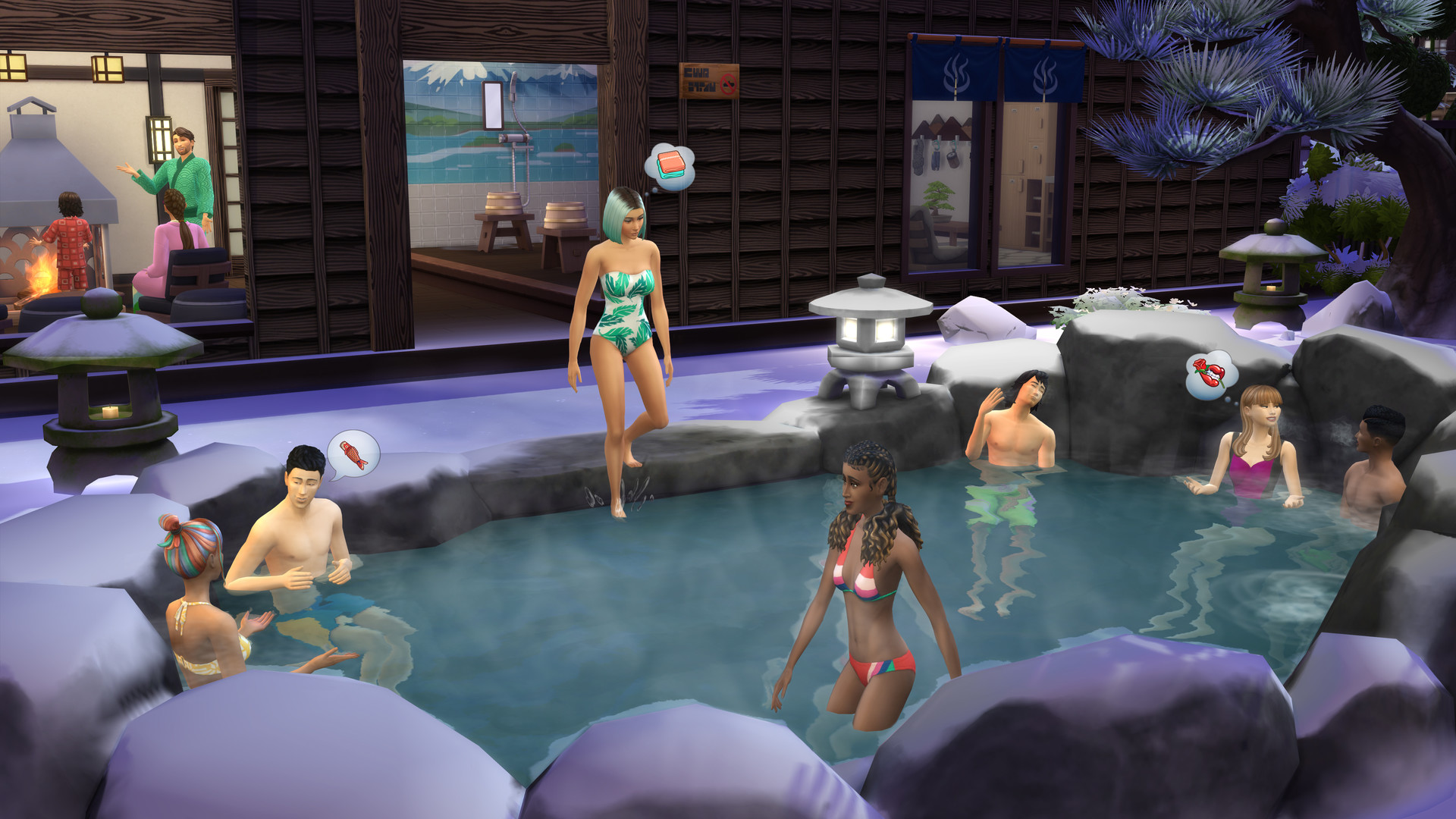 Perhaps the most important new features of the latest expansion are the Lifestyles and the Sentiments, making your sims positively burst with personality even when you are not controlling them manually.
Sentiments are shared experiences that have a lasting impression on the relationship between characters. For an example of a Sentiment, if your sim family spends time snowballing the snot out of each other in Mt. Komorebi, the younger members of the household will hold onto the positive emotions from that activity.
On another hand, there is Festering Grudge – a negative Sentiment left by an unpleasant experience with another sim that affects your character's mood if the two were to interact again.
It was an interesting experiment to have sims experience a wide range of emotions through group activities and see which of them provide Sentiments. Perhaps it is bound to the strength of the emotion, but a few things I didn't expect to provide a Sentiment – such as a snowball fight – did while some of the romantic stuff that I was prepared to have lasting effect actually did not.
Nevertheless, Sentiments serve as memories of your characters' activities with other sims. Now interacting with a neighbor in a sour mood can have lasting consequences to the relationship with this particular person. Even a random fight between the two household members, born of embarrassment or fatigue, can affect the mood in the house for a while.
While the Sentiments effect relationships between your sim and others, Lifestyles add more depth to the sims' own personalities and improve their autonomous behavior with both positive and negative traits.
Seemingly the easiest Lifestyle to acquire is Workaholic. On the positive side, the Workaholic's needs decay slower while at work and such a Sim has increased work performance gain. So if you have any career-oriented Sims, not only is this Lifestyle the way to go but you are also almost guaranteed to get it at some point.
There is also a catch, however. Workaholic characters have a harder time staying in long-term relationships and tense up if they ignore work or are unemployed.
Any Sim can have up to three Lifestyles at a time out of a total of 16. Other Lifestyles include Hungry for Love, Health Food Nut, Frequent Traveler, Adrenaline Seeker, and others, giving each of your Sims unique needs and behavior.
Of course, Lifestyles alone or even coupled with Sentiments can't turn your sims' personalities upside down but they do make them much more pronounced.
It is very interesting to leave a group of sims with varying Lifestyles and some shared Sentiments to their own devices and see what happens.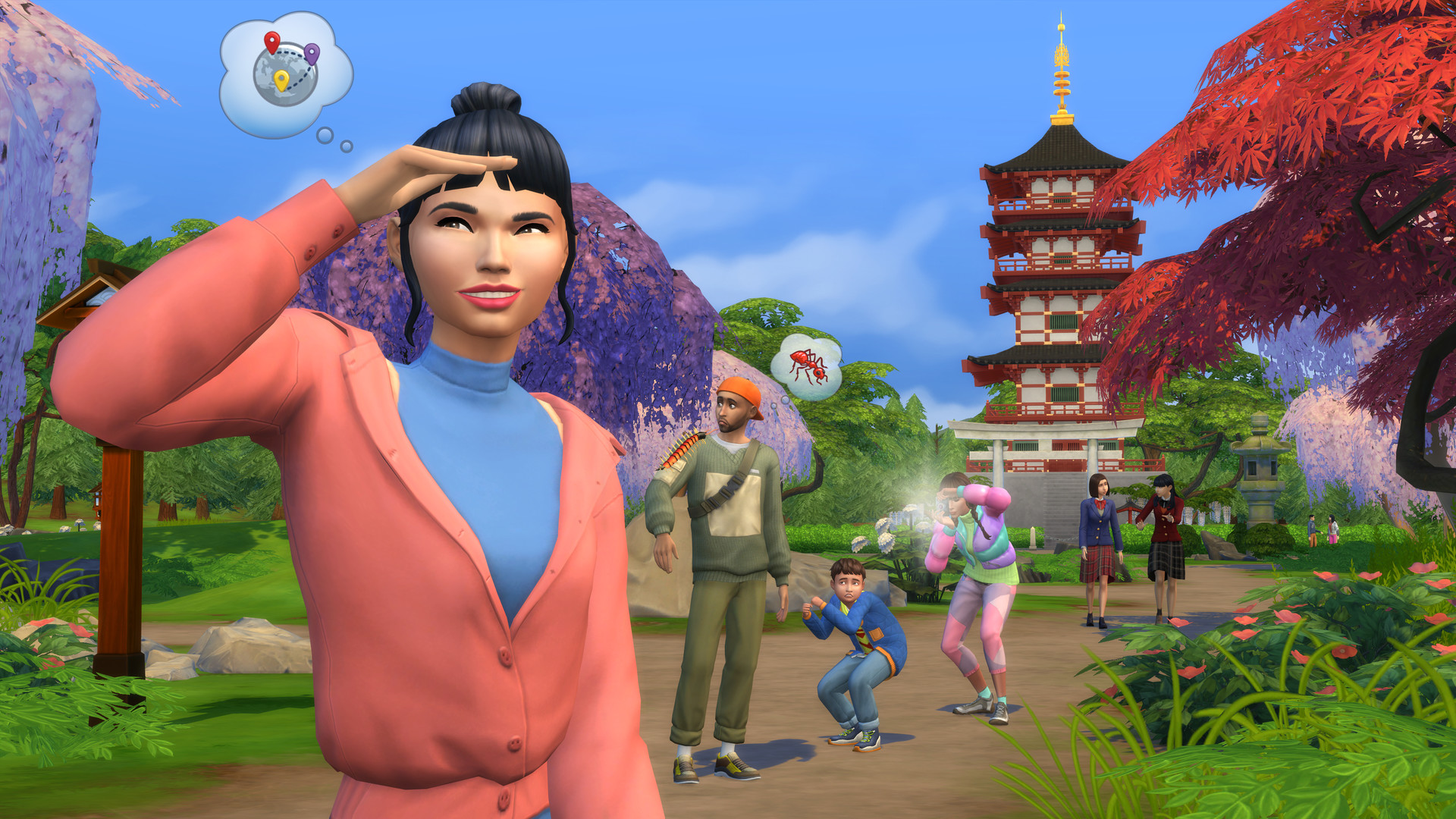 The expansion pack also added a number of additions to the build mode, allowing simmers to design their dream homes using new options. The new pieces include tatami mats, shoji doors, windows and screens, paper lanterns, kotatsu tables, sunken genkan entryway and so much more. There are also 15 new foods and drinks for your Sims to enjoy and new jobs to seek out.
As always, The Sims 4 shines in its attention to details, such as allowing sims a choice of preference of utensils. More rebellious characters will walk into the house in shoes and inwardly delight at their cheekiness. At the same time, more modest and traditional sims would be embarrassed at having forgotten to take their footwear off or clean up before dipping into hot springs. Or, in the kids' case, leaving for school without a uniform.
The region of Mt. Komorebi itself is a gorgeous addition to the world of The Sims 4, a miniature Japanese Winter Wonderland getaway for everyone stuck at home. Snowy Escape provides players with a way to forget about everyday worries and enjoy being social and carefree.
And, with the addition of Sentiments and Lifestyles, it has never been more interesting and important to be social than it is in Mt. Komorebi.
If you are looking for something that revolutionizes the gameplay of The Sims 4, Snowy Escape will not provide you with what you seek. The latest expansion builds on what is already present in the game and, for some players, it will feel like more of the same.
The Sims 4: Snowy Escape is available on PlayStation 4, Xbox One and PC via Steam & Origin.
Note: The PC key was provided by the developer for the purposes of this review.