Sony has announced the exact release date of the upcoming action-platformer Ratchet & Clank: Rift Apart. PlayStation 5 players can get their hands on the game as soon as June 11, 2021.
The events of Rift Apart follow those of Ratchet & Clank: Into The Nexus. Everyone's favorite intergalactic adventurers are back with a bang! Help them stop a robotic emperor intent on conquering cross-dimensional worlds, with their own universe next in the firing line: the fabric of space-time gets accidentally damaged, resulting in dimensional rifts popping throughout the world.
Blast your way home with an arsenal of outrageous weaponry.
Experience the shuffle of dimensional rifts and dynamic gameplay.
Explore never-before-seen planets and alternate dimension versions of old favorites.
Pre-order and receive early unlocks for two in-game items: Pixelizer Weapon & Carbonox Armor set.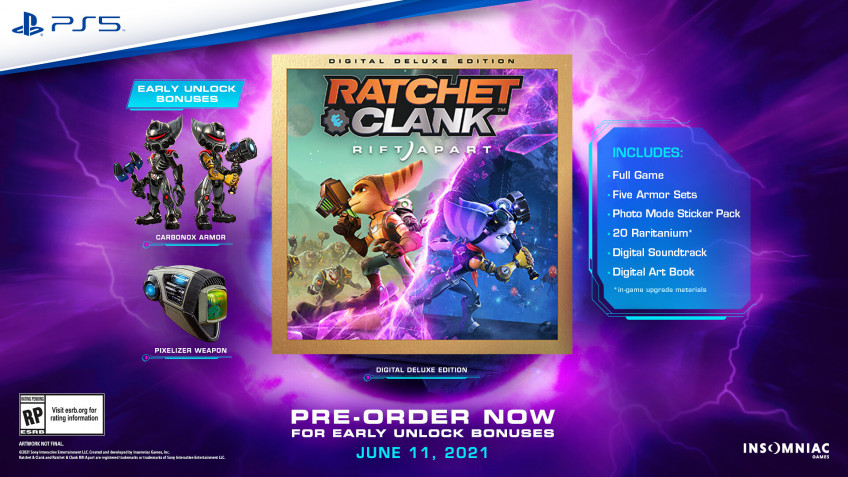 Previously, the team from Insomniac Games discussed the effect of working with a new generation of consoles. The devs are trying to build worlds that feel real with more objects, things to explore, enemies, effects, etc. This is something that couldn't have been done on previous generations. The frequent use of dimensional rifts would not have been possible without the solid-state drive of the PS5.
"The SSD is screamingly fast. It allows us to build worlds and project players from one place to another in near-instantaneous speeds", – said Insomniac Creative Director Marcus Smith.