The Sims franchise is constantly evolving under Electronic Arts' doting care. Following the Journey to Batuu game pack, The Sims 4 received a new large expansion pack titled Snowy Escape. Gear up for a thrilling adventure in the new region added to the game!
Mt. Komorebi has everything your Sims need for an adrenaline-filled vacation: sledding, snowboarding, hiking, climbing the steep peaks, fighting vending machines and much more! 
If your characters prefer peace and comfort over thrilling adventures, there are sights to see, festivals to participate in, collectibles to gather, new activities to enjoy and even hot springs to soak your worries away. 
Whether you are looking for a little getaway or want to get a new start and a dream home in the breathtaking snowy region, Mt. Komorebi has it all. And that is what sets it apart from Journey to Batuu. 
Of course, there is a great difference between a game pack and a full-fledged expansion, but on the surface level the two have a lot in common: both add a new vacation destination to visit featuring a new type of aesthetic. Star Wars for Batuu, snowy goodness with Japanese tones for Mt. Komorebi. My main gripe with Batuu was that the entirety of it was only skin deep with the game pack amounting to visiting Galaxy's Edge at Disneyland, one time deal.
The Sims 4 fans will be pleased to know that Snowy Escape takes things much further and provides a large dose of the classic Sims goodness.
Players who purchased Snowy Escape get over 130 new additions to Create-a-Sim mode, including winter-themed outfits for adults and kids alike and traditional Japanese clothes that look stunning both in Mt. Komorebi and in the bigger Sims world. 
The expansion also adds new aspirations specific to the new world such as Mt. Komorebi Sightseer that is oriented at exploring the world around your Sim or Extreme Sports Enthusiast that is looking for thrills around them. 
Snowy Escape also introduces Lifestyles to add more depth to Sims' personalities and enhance their autonomous behaviour. For example, one of the new Lifestyles is Workaholic, and the consequences for acquiring such a Lifestyle are both positive and negative in their nature. 
As a bonus, Workaholic's needs decay slower while at work and such a Sim has increased work performance gain. On another hand, these characters have a harder time staying in long-term relationships and tense up if they ignore work duty or are currently without a job. 
Other Lifestyles include Hungry for Love, Health Food Nut, Frequent Traveler, Adrenaline Seeker and others, giving each of your Sims unique needs and behaviour. Any Sim can have up to three Lifestyles at a time out of a total of 16.
Lifestyles is not the only addition coming to Sims' characters in Snowy Escape. The expansion also adds Sentiments – shared experiences that have a lasting impact on Sims' relationships to each other, affecting their social interactions. The Sentiments can be both positive and negative. For example, one of the Bitter Sentiments is Festering Grudge – your character having hard-to-forget negative experience with another Sim that leads to unpleasantness were the two to interact again, influencing their emotions.
Of course, it won't be an expansion pack if it didn't add a variety of objects and items to the build mode! For the first time, Sims can rent a lot for their vacation or purchase a residence to start their life with a fresh leaf at Mt. Komorebi. 
Thanks to the new additions, you can design your dream home using new unique traditional and modern furniture options. The new pieces include tatami mats, shoji doors, windows and screens, paper lanterns, kotatsu tables, sunken genkan entryway and so much more. Additionally, you can build your own rock garden in the shade of Japanese maple trees and add a variety of decorative elements to compliment the style of your new home. There are also 15 new foods and drinks for your Sims to enjoy – you can set a preference of utensils between forks and a variety of chopsticks. There are also new jobs to seek out!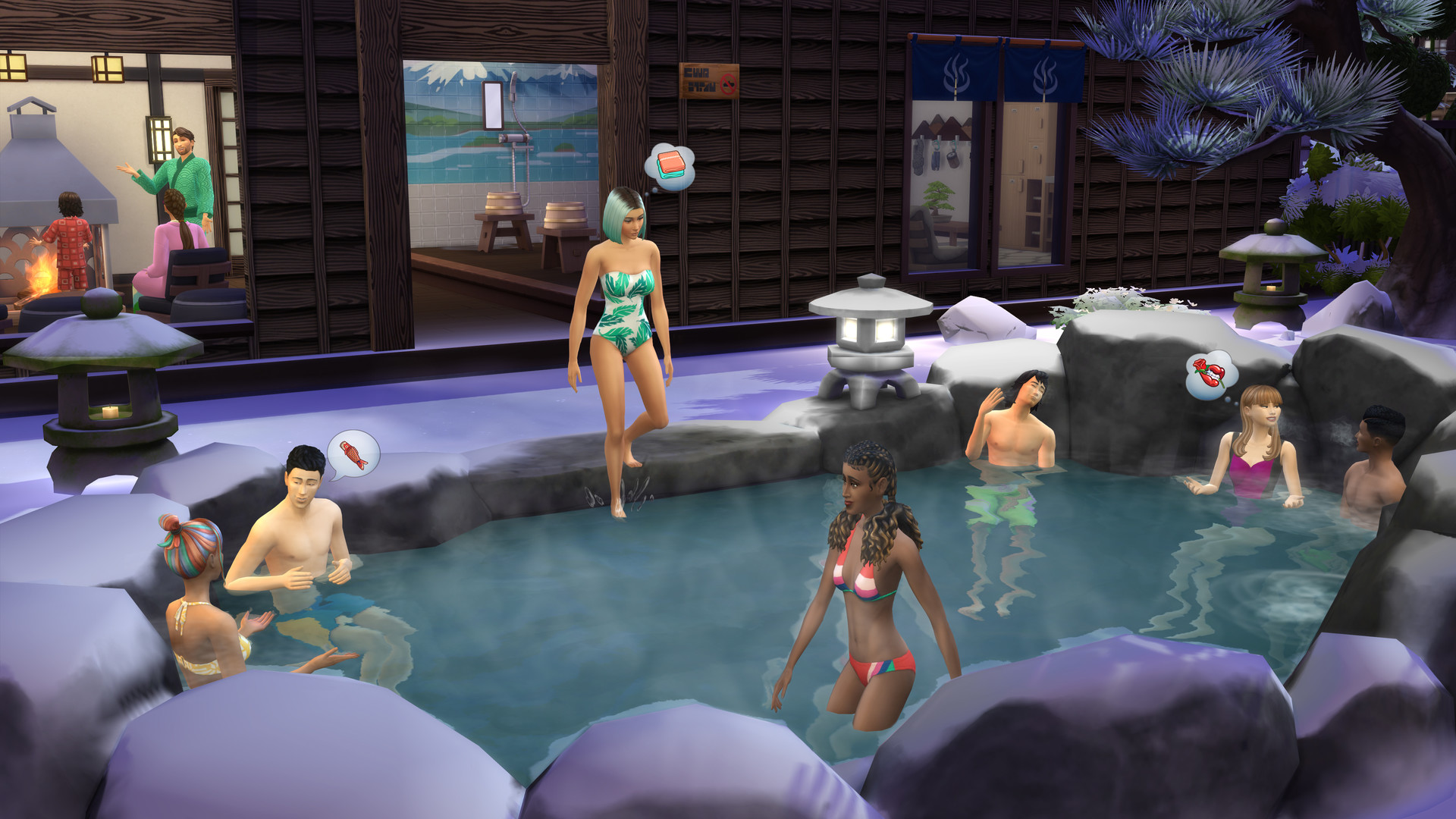 The Sims 4: Snowy Escape provides a great variety of activities for all kinds of Sims to enjoy: thrill-seekers, travel-enthusiasts, entire families with Sims of different ages, including children, will find something to do at Mt. Komorebi. 
Going on hikes, skiing or snowboarding together, participating in festivals or events like Voidcritter hunts, sledding together, the expansion has it all. With the addition of Lifestyles and Sentiments, it has never been a better time – or place! – to be social, especially if you are stuck at home in front of your PC.
Just watch out for the difficulty of the slopes or climbing you are attempting – inexperienced Sims can be injured or even die trying for something too hard for their skill level. 
The concepts introduced in the expansion feel like a breath of fresh mountain air. Snowy Escape is a must-have for any avid Simmer due to the updates it provides to Sims' relationships and personalities in addition to the great new Build mode features. 
The Sims 4: Snowy Escape will be launching on PlayStation 4, Xbox One and PC via Steam & Origin on November 13.