New months means new games, and Nintendo is not about to change the rules! A bunch of new games is arriving on Nintendo Switch this week. You can find the full list by visiting the official site or check out the games below to know what's up.
Conarium
Single-player adventure
Developer: Iceberg Interactive
Publisher: Iceberg Interactive
Release date: February 4
Conarium is a chilling Lovecraftian game that follows the gripping story of four scientists and their endeavour to challenge what we normally consider to be the "absolute" limits of nature. Inspired by H.P. Lovecraft's novella At the Mountains of Madness, but largely set after the original story.
You, as Frank Gilman, open your eyes inside a room filled with strange, pulsating noises. Patterns of lights executing a Danse Macabre on the walls is presented by a queer device on the table. Having recalled nothing other than that you're in Upuaut, an Antarctic base located near the South Pole, you find the place deserted and have a distinct feeling of something being terribly wrong. Somehow knowing that your memories cannot guide you enforces a strange feeling of vulnerability, a familiar yet alien sensation of being a part of a peculiar whole… Soon you will discover that having used the device during the expedition, you have died but then returned subtly changed, speaking of strange memories and of strange places. You have lost something important or gained something sinister…
Odysseus Kosmos and his Robot Quest
Single-player puzzle/adventure
Publisher: HeroCraft
Release date: February 4
Odysseus Kosmos and his Robot Quest is a pixelated point-and-click adventure game in the spirit of 90's classics. Our cast: Odysseus "Oddy" Kosmos, the onboard engineer of the spaceship, and his one and only companion, the sarcastic robot Barton Quest.
Oddy's team embarked on a mysterious expedition seven years ago, leaving Oddy and Quest to maintain the ship. A task with its own challenges, of course. The trouble is, Oddy is exceptionally lazy and bored of being alone – only treats can hold his attention anymore, leaving Barton to shepherd the glum engineer around as they mind their obligations, lest the ship plummet from orbit. However, the ship's machinery has suddenly started acting up, it seems there are ghosts wandering about, and even the coffee has gone bad!
NUTS
Single-player adventure/sim
Developer: Joon, Pol, Muuutsch, Char & Torfi
Publisher: Noodlecake
Release date: February 4
A single-player surveillance mystery set in a remote forest – record the squirrels, report your findings… and uncover the secret that the curious creatures are hiding.
Gear up your caravan, boot up your GPS, spread out your map and head for the depths of Melmoth Forest. As a rookie field researcher, you'll place cameras during the day, and watch the footage at night, tracking the movements of a scurry of squirrels.
Where do they hide their nuts? What puzzling routes do they take? And why do they behave so strangely?
Flying Hero X
Single-player action-adventure
Developer: EpiXR Games, RedAndroid
Publisher: EpiXR
Release date: February 4
Evil unicorns conquered Meow York City! It's about time to unleash your true hero skill and get some revenge!
Save all the cute kittens in this thriving city on a beautiful island and upgrade your gear to fly faster than any other hero ever!
And finally… show those unicorns what you're made of!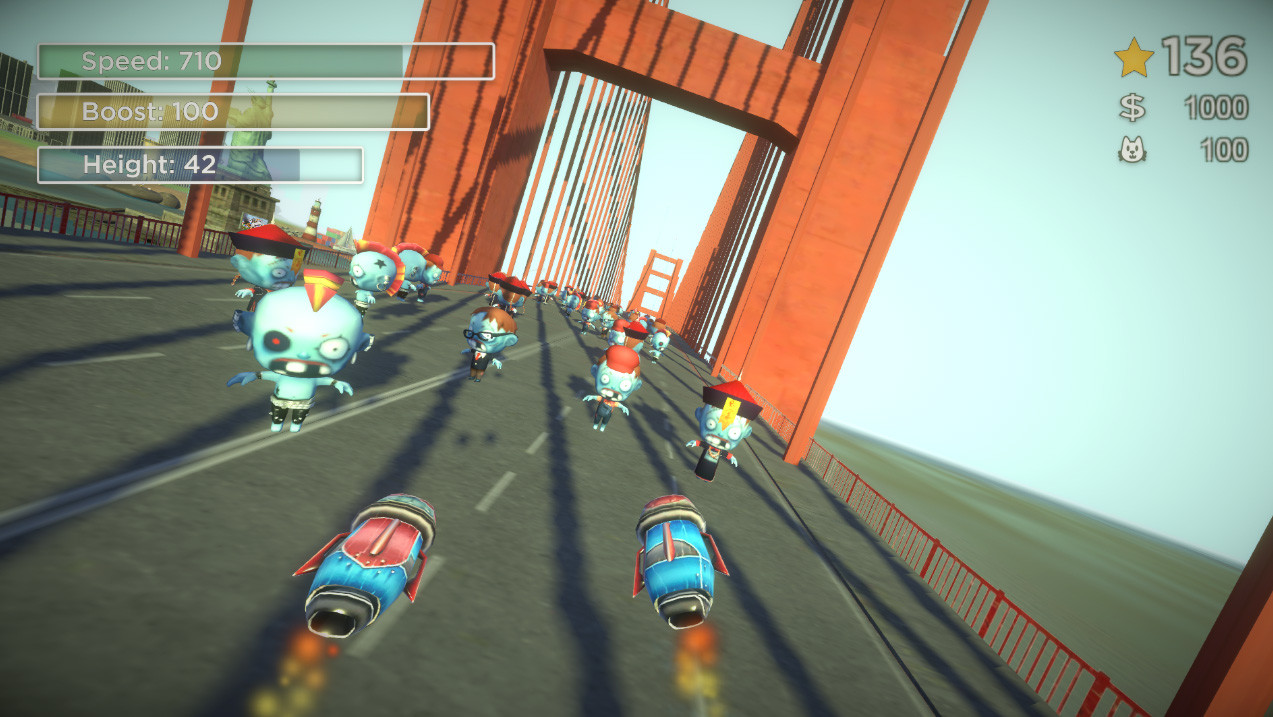 Kowloon High-School Chronicle
Single-player adventure
Publisher: Arc System Works
Release date: February 4
Kowloon High-School Chronicle is a hybrid RPG, adventure, and first-person simulation game originally released in 2004 in Japan. Never before released in North America, experience this classic title, now remastered in HD on Nintendo Switch!
In Shinjuku, Tokyo, a young man appears as a transfer student at Kamiyoshi Academy. While he seems like a normal student, he is actually a treasure hunter. His mission is to discover a mysterious ruin hidden deep beneath the school. Accompanied by his new friends from school, he sets out to discover the mysteries of a super ancient civilization. However, numerous traps, monsters called "Kehito" that lurk within the ruins, and the clutches of the "student council" stand in his way!
Byakko-tai Samurai Boys
Single-player adventure/sim
Publisher: OperaHouse
Release date: February 4
The main character Shikame Chisato and her elder brother went to a Hanko Nisshinkan School as a swordplay instructor surrogate.
Her childhood friend, Minoji Sakai, also went there worried about Chisato as women were usually not allowed to attend.
"And an encounter with the boys(Gisaburo Shinoda,Matahachi Ito) who go to Nisshinkan School , Towako Yamamoto who goes to as a gunnery instructor surrogate likewise, the youth Kotaro Saitani who has a store Nishikiya in a castle town, and the mysterious youth Narihira Agatuma who lives there as a guest staying changes the respective destiny big."
Football Cup 2021
Single-player sports/sim
Publisher: 7Levels
Release date: February 4
Show other countries, who has the best team on the planet, win the champions cup and become a soccer star!
The fields of most famous stadiums glow under the spotlight and are ready for your team. Explore the vast amounts of uniquely designed levels and fight your way through each tournament phase! Meet the legends in the finale and show them how it is done! Claim all your trophies and become a beacon of soccer experience.
Skyforge
Multiplayer action for up to 20 players
Developer: Allods Team
Publisher: MY.COM
Release date: February 4
Skyforge is an online action game inspired by science-fiction and fantasy, set in a breathtaking universe rife with gods and monsters. As an Immortal of Aelion, team up with players around the world to uncover amazing stories, explore lands uncharted, and defend a massive, constantly evolving world from invasion!
Take your intergalactic adventures on the move! Session-based gameplay makes it easy to play while traveling, on your lunch break, or kicking back at home. Pick up and play anytime, anywhere: Aelion will be waiting for you!
Haven
RPG/adventure for up to 2 players
Developer: The Game Bakers
Publisher: The Game Bakers
Release date: February 4
Yu and Kay have escaped to a forgotten planet, leaving everything they knew behind. Play the two lovers as they settle into an unknown world.
Glide over the fragmented planet looking for parts and material to fix your ship and make it a cosy home. Enjoy moments of everyday life as a relatable couple while cooking meals, crafting and collecting precious resources to make it to the next day.
Fight against those trying to tear you apart by synchronizing actions in combat, finding the perfect timing and rhythm, while controlling both characters and battling to keep them and their relationship alive.
Station Manager
Single-player sim
Publisher: Kairosoft
Release date: February 4
All aboard this exciting journey to build the world's greatest train station!
Customize your station with your favorite facilities and trains. Help your passengers travel in comfort by adding vending machines, benches, information boards and more. With fun features including arcades, VIP lounges and taco stands, you'll soon be everyone's favorite stop!
Link different carriages to create new trains for business, tourism and more. Expand into the surrounding area to attract new passengers. It's full steam ahead for your spectacular new station! Watch as it fills with commuters, students and other travelers!
Grey Skies: A War of the Worlds Story
Single-player action-adventure
Developer: Steel Arts Software
Publisher: SteelArtsSoftware
Release date: February 4
Grey Skies: A War of the Worlds Story is a stealth based single player adventure that throws you right into the middle of the Martian invasion. Play as Harper through her personal story amidst the most significant event in human history.
Based on the great work of H.G. Wells, explore the English countryside and encounter iconic concepts such as Black Smoke, Red Weed and of course the almighty Fighting Machine and it's Heat Ray!
Sneak, craft and trick the souls under Martian influence, and when it all gets too much. Use the environment to your advantage or upgrade Harper's ability to craft Throwables and learn how to neutralize or avoid enemies in new and interesting ways!
Blue Fire
Single-player adventure/platformer
Developer: ROBI Studios
Publisher: Graffiti Games
Release date: February 4
Embark on an extraordinary journey through the desolated kingdom of Penumbra and discover the hidden secrets of this long-forgotten land. Explore mystical temples, encounter survivors and take on strange quests to collect valuable items. Along your adventure, slash your way through daunting adversaries, roam across mysterious and abandoned regions, leap through deadly traps and ultimately master the art of movement.
Digerati Best Sellers
Single-player platformer/racing/sim
Publisher: Digerati
Release date: February 4
A triple treat of Digerati hits! This bundle contains Slain: Back From Hell, Snakeybus, and Sunless Sea: Zubmariner Edition.
Slain: Back From Hell: A heavy metal inspired arcade combat game with stunning pixel art visuals, challenging old-school gameplay, and a brutal soundtrack. Fight through a Gothic world and face the deadly overlords that reign over each of its cursed realms. Defeat them to continue your quest, or fail and die gruesomely…
Snakeybus: An absurd arcade-driving game and frantic score-chasing experience where the biggest danger is yourself! Wind through city streets, pick up as many passengers as you can and deliver them to their destination to increase your score AND the length of your bus!
Sunless Sea: Zubmariner Edition: LOSE YOUR MIND. EAT YOUR CREW. DIE. Take the helm of your steamship in a Victorian Gothic roleplaying game of discovery, loneliness and frequent death.
How to take off your Mask Remastered
Single-player adventure
Developer: ROSEVERTE
Publisher: Ratalaika Games
Release date: February 5
Lilia is just an ordinary girl who works in a bakery. She spends every day happily with her childhood friend, Ronan. One day Lilia finds her body has shrunk. Moreover, she has grown cat ears and a tail?! She panics, jumps out through her room's window, and runs towards the town. And the first person she bumps into is the city guard, Ronan.
One day you discover the other side of your partner you had never known. What is the truth beneath the masks? Each of them has secrets. The mask of "Big Sis" and "Luccretia Girl" she wears. The mask of "Lil Bro" and "City Guard" he wears.
Which one of them will be taken off first?
Glittering Sword
Single-player action/puzzle
Publisher: ChiliDog Interactive
Release date: February 5
Not every game can be rated solely by screenshots. It's like a human's essence that can't be measured by a staged photo. And thus Glittering Sword is not that kind of game that some may think judging by screenshots or trailer. At the first glance, it looks like a typical action-adventure, like many other classic titles from the 90's. Glittering Sword is full with the spiritual references to these classical gaming brands, and it's shiny and balanced graphical setting helps the player to dive into the memorable adventure. Best way to describe this game by phrase: «fantasy adventure set in a cozy world with Sokoban-style puzzles».
Here, each screen is the individual location with traps, enemies, portals and switches, and the player needs to learn the exact order of completing things the right way. The more you play Glittering Sword, the harder it gets with traps being more and more deadly, and the enemies become tougher. We hope that players who are addicted to adventure games will fall in love with this small but very entertaining game.
Urban Street Fighting
Fighting for up to 2 players
Developer: Benoit Varasse
Publisher: Pix Arts
Release date: February 6
Find the original fighting experience with this hardcore beat'em up game.
Defeat your opponents with amazing stunts and blows.
Full 3D, Action-packed with realistic physics, single-player or local multiplayer, this game will bring you hours of fun.
Bubble Bubble Ocean
Single-player arcade/puzzle
Developer: Benoit Varasse
Publisher: Pix Arts
Release date: February 6
Bubble Bubble Ocean is an addictive bubble game with 80 puzzles levels packed of fun! Match 3 bubbles to rescue kind fishes!