The events of the game are set in a fictionalized '80s Latin America when the USA got flooded by all possible types of drugs with cartels using a variety of industries for laundering illicitly obtained money and creating thousands of jobs in their crime empires. In Cartel Tycoon, developed by Moon Moose and published by tinyBuild, you get a chance to try out what it's like to be one of those cunning rich drug kingpins. The game is currently available in Steam Early Access.
Your protagonist starts as a small fry in a big pond. Making a phone call hoping to get some kind of job gets you roped into drug production and smuggling operations. That opens access to a huge island split into a number of regions. The story begins in a cartel's mansion kindly provided for you alongside with a bunch of cash to get your empire going. You also get your first quests, such as optimization of your infrastructure and getting resources for the subsequent sale.
With every illegal operation, you accumulate more and more dirty money that need to be put into a clean legal business to be laundered. Everything you do is tracked by the law enforcement agencies that are looking for a reason to punish you and destroy your budding crime syndicate. If you die, promote one of your unique lieutenants to take control and continue growing your cartel.
Of course, a big pond also means plenty of other fish, namely competitors that will be trying to interfere with your business. Fortunately, that does not detract from the overall resource management and rather enhances it instead. You need to make sure that you have guards around your buildings and businesses or you might find yourself under an attack. Nothing personal, kid, just business!
Manufacturing and distributing drugs as well as managing smuggling routes is something that will require your constant attention. At the same time, you would do well to meet new people and get connections with the city mayor and other high and mighty corrupt individuals.
Once you gain their attention and acquire a reputation in certain circles, you will be able to use your influence to gain access to the new buildings necessary to maximize your money laundering capabilities. Over time you will have more and more resources and facilities that will need your constant attention: if a building or a farm aren't getting the necessary maintenance, they will stop working until the problem is solved and the supply is restored.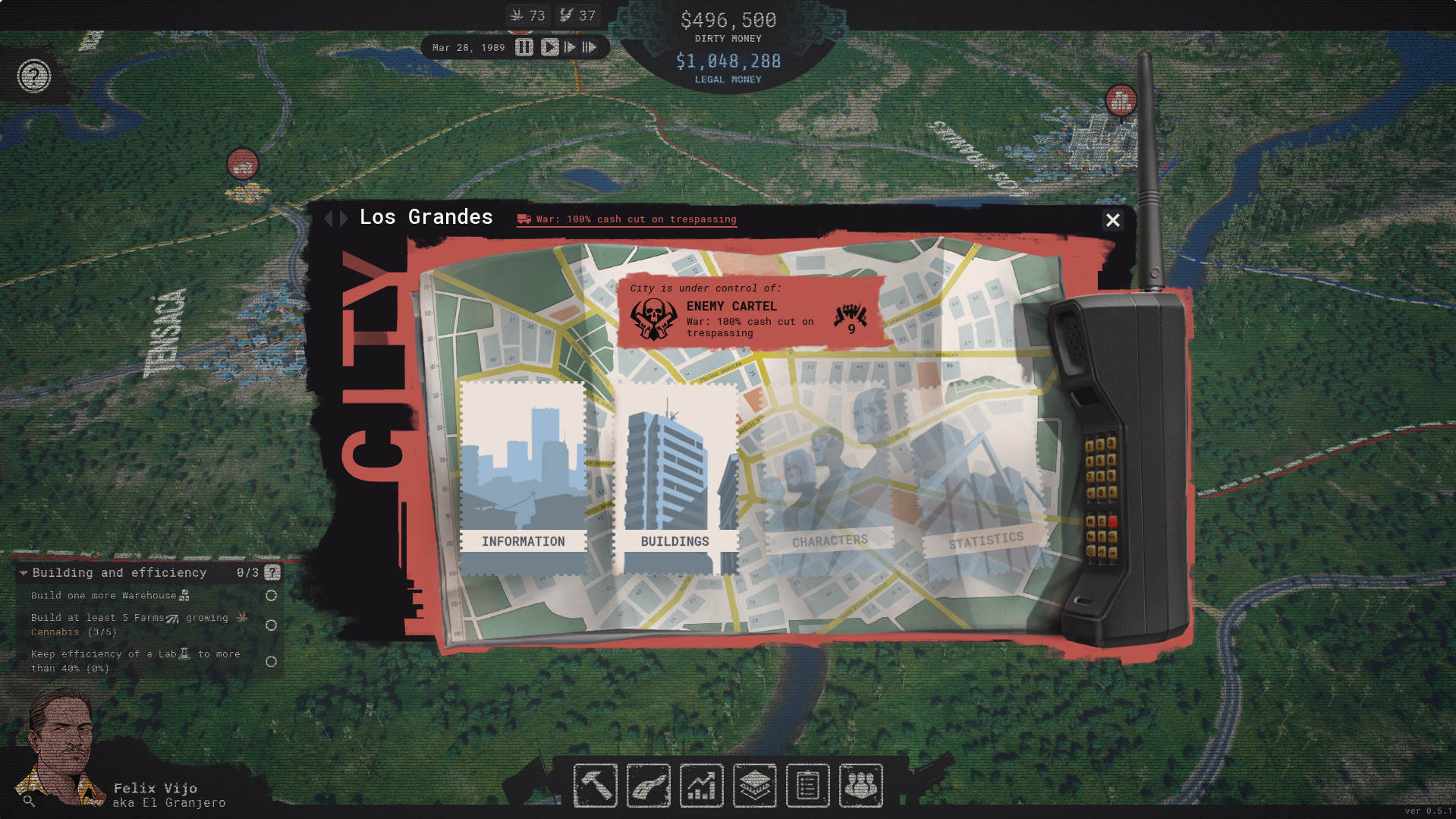 The game has certain minor flaws but I hope they will get fixed by the time it is ready for the full release. For example, there are certain problems with logistics, like not enough player control over the process of redirecting goods from one point to another. You can use your lieutenants for the task, but if they are busy with more important tasks you will have to wait.
Cartel Tycoon is very visually appealing. The island is very detailed and enlivened with bright greenery, shimmering water and lifelike transport traversing the location. Like many other tycoon games, Cartel Tycoon allows you to zoom in greatly to look at the details while listening to the '80's-inspired pleasant tunes. Overall, the game has a great, enjoyable atmosphere.
Cartel Tycoon is a great game for anyone who wants to try their hand at gang management in tropical conditions. The in-game tutorial provides you with great tips to get you going, covering game mechanics, tips for completing quests, etc.
The game is still in its Steam Early Access stage and receives constant updates, patches, hotfixes, enhancements and more. For example, less than a month ago the developers rolled out a major update From Russia With Love, adding a new chapter in the Story Mode, reworking the logistics system, adding a new building – Pier, supply and demand for goods, new residences, and more.