Riot's MOBA League of Legends is something of a gaming phenomenon. The game was released back in 2009 and has been meticulously expanded and improved since then, including revamping its lore, and it is likely you will not find a gamer that has not heard of the project in some way, shape, or form.
Between madly popular K/DA animated music videos, epic cinematic trailers, unique champions, and their introductions popping out every now and then, as well as a variety of Legends of Runeterra and Wild Rift content, the universe of Runeterra never stays away from the spotlight for long.
Much of what I know of League of Legends has been learned against my will simply by having friends who are passionate about the game and willing to share that passion with anyone who listens – or doesn't. I only really started lowkey following the overall world of Runeterra on my own with the release of the Warriors music video.
The world of Runeterra piqued my interest with how much of a quirky hodgepodge of themes and ideas it is, much like my beloved pre-BFA Azeroth. Any kind of fantasy lover would find a region after their own heart. Religious conflict and star-crossed lovers? Targon has your back. Respect nature or ELSE? Ionia is there for you. Are you into hot pirates? Bilgewater and its cast of characters await!
Expansionist Noxus, paladin-esque Demacia and the mage rebellions, the frozen wilderness of Freljord, the desert empire of Shurima, yordles' Bandle City… And, of course, Piltover and Zaun, the central stage of Riot's Arcane. The world of Runeterra boasts many unique regions, filled with equally unique characters of various backgrounds and social standings.
(We don't talk about Shadow Isles after Ruination.)
And that is not even bringing up the skins and alternate universes such as the Eclipse/Cove, Blood Moon or PROJECT.
The catch is that in all those years I have never once actually gotten an urge to play League of Legends itself, content with watching from afar, reading comics and champion stories and checking out the amazing works of the game's creative community. The connecting pieces that were missing from those materials could be explored by checking a variety of LOL's Youtubers such as Tenebrix, Necrit or TBSkyen.
Enter Arcane.
Even if you were among those gamers that didn't know about League of Legends before, it seemed impossible to escape Arcane. The games I follow had collaborations with the project. The sites I visit had advertising running on replay. Every time I would open my browser, there was something new related to Arcane and Riot.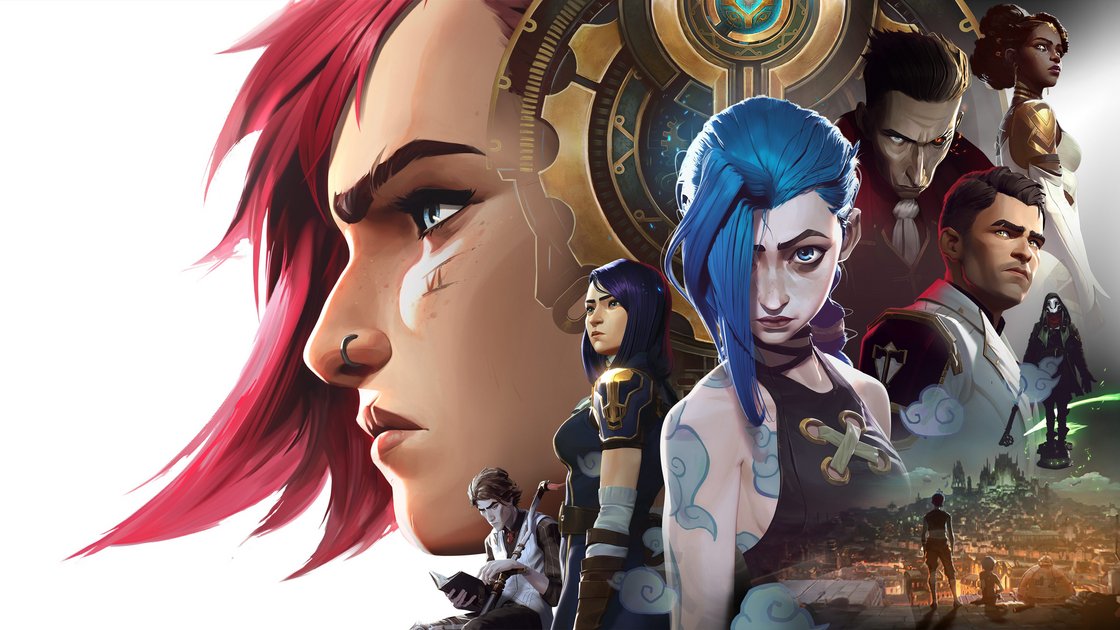 And I admit, it worked. And it was worth it.
With the six episodes available at the moment of writing this article, Arcane is a masterpiece of animation. It feels kind of surreal that a game focused on a bunch of randoms pushing mid could give rise to such a fantastic series.
The heroes' past comes in layers, connecting, affecting each other, and splitting apart only to explosively meet at a later point. The tragedies of Piltover and Zaun come alive, showcased from different angles and perspectives, plunging even those unfamiliar with the universe into this conflict of twin cities and the characters hailing from them, including the two sisters Vi and Jinx.
Besides having to rewatch the currently available six episodes obsessively, it comes with an extra drawback: I simply need more.
Does it make me want to play League of Legends all of sudden? Well, yes… and no.
I'm still pretty averse when it comes to playing a competitive PvP-focused game but I have a mighty need for more Runeterra. Right now, if I could, I'd dive deep into a narrative-heavy game set in the universe, be it an RPG, a strategy, or even an MMO.
Except there aren't any. The closest thing would be the newly introduced Path of Champions in Riot's CCG Legends of Runeterra and the currently in-development Ruined King: A League of Legends Story turn-based RPG slated to hit the market later this year.
With Riot's recent focus on storytelling, the seeming success of Arcane and the general hardship when it comes to telling a compelling, deep story in a MOBA, one can only hope that the company has more narratively-driven Runeterra experiences in mind. The series could serve as the first great step on the path of lore greatness.
TL/DR: You got me good there with Arcane, now give me that character-driven story-focused content, Riot. Pretty please?